Home
Disneyland California Resorts Grand Californian Disneyland Hotel Paradise Pier
Packages Resort Magic Magical Beginnings Special offers
California Hotels Airfare California Attractions Rental Car Book Hotel Now
Hotels Good Neighbor Anaheim Hotels
Theme Parks Disneyland California Adventure Theme Park Dining Disneyland Pricing
Articles Win a FREE Disney Movie DVD Site Map Who we are Client Comments Other resources
We had a wonderful time! Your suggestions and input regarding the meal tickets was absolutely a life saver for us. Thanks again for assisting us in our Disneyland vacation plans! Pam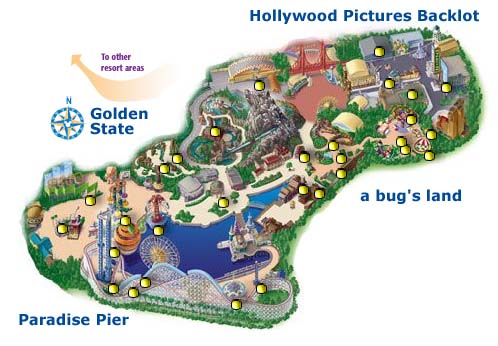 Disneys California Adventure park takes you and your family on a magical journey to experience the breathtaking wonder, laid-back fun and adventures that only Disney could create.
A bug's land
Look at life from a bug's eye view in this imaginative land created by Flik and his insect sidekicks, inspired by Disney a bug's life. Kid-friendly attractions abound! And there's plenty for big bugs too, including the thrilling and hilarious trip inside the secret world of insects in It's Tough to Be a Bug!
Golden State
Explore a fun-filled celebration of the California dreamers, doers, people, places, innovations, ideas, beauty and bounty that have made the Golden State a land of dreams. Six exciting, magical areas make up this limitless land
Hollywood Pictures Backlot
Pass between the enormous Babylonian studio gates onto a fantasy Hollywood Boulevard lined with shimmering facades of some of Los Angeles most storied landmarks. Behind the Golden Age glitzy cafes, swanky shops, posh theaters and a real studio Backlot, exists endless excitement where the magic of the movies is brought to life.
Paradise Pier
Fun in the Sun for Everyone! Plunge into the fun of a California resort drenched in sun and nostalgia, with more than a dash of Disney magic. This seaside boardwalk is jam-packed with wildly thrilling adventures, delectable diners and distinctive shops. You may never want to leave!
Sunshine Plaza

Pass under the fanciful version of the Golden Gate Bridge and begin your California Adventure in the welcoming warmth of Sunshine Plaza. A 50-foot-tall glistening sun sculpture watches over a great location to shop, relax, watch the parades, or catch the dazzling light and water show of the perpetual wave fountain.
Get Your
Disneyland Vacation
Quote Now
---
Disneyland California
Resorts
Packages
California
Hotels
Home
WDWVacationplanning.com ©2006-2009
Disney artwork, logos & properties: ©Disney | Disney Cruise Line

Ship Registry: The Bahamas