Home
Disney World Orlando Year of a Million Dreams
Planning & Pricing Services Price Quote
Disney World Resorts Deluxe Disney Vacation Club Moderate Value
Orlando Hotels Airfare Orlando Attractions Rental Car Book Hotel Now
Disney Packages Magic Your Way Magical Gatherings Groups
Theme Parks Magic Kingdom AnimalKingdom MGM Studios Epcot
Water Parks Blizzard Beach Typhoon Lagoon
Downtown Disney Cirque Du Soliel Marketplace Downtown Westside
Character Dining FAQ's Advanced Dining Reservations Locations
Tickets Discounted Tickets Magic your Way Park Hoppers Water Parks Orlando Attractions
Pricing Disney World All Inclusive Packages Room only Tickets only
Adventures by Disney Vacation Destinations 2008 Vacation Packages
Disney Cruise Itineraries Bahamas Caribbean Mediterranean Mexican Riviera Vacation
Staterooms Cat.12,11,10 Inside Cat.9,8 Oceanview Cat. 7,6,5 Balcony Cat.4 Family Suite Cat. 3,2,1 Suites
Activities Kids Teens Toddlers Adults Pirates in the Caribbean Deck Party Cruise Dining Disney Cruise Pricing Cruise Articles
Disneyland California Resorts Grand Californian Disneyland Hotel Paradise Pier
Packages Resort Magic Magical Beginnings Special offers
California Hotels Airfare California Attractions Rental Car Book Hotel Now
Hotels Good Neighbor Anaheim Hotels
Theme Parks Disneyland California Adventure Theme Park Dining Disneyland Pricing
Articles Win a FREE Disney Movie DVD Site Map Who we are Client Comments Other resources
Disney Magic Kingdom Theme Park
The Magic Kingdom Park is divided into the following lands,
Main Street U.S.A. , Adventureland, Frontierland, Fantasyland, Liberty Square, Mickey's Toontown Fair, Tomorrowland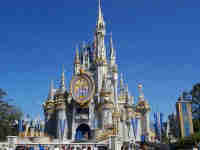 Monsters Inc. Laugh Floor Comedy Club. You will laugh, joke, sing songs and match wits with the beloved animated characters from Disney-Pixar's "Monsters, Inc." in this engaging and interactive attraction. Monsters Inc. Laugh Floor Comedy Club features one-eyed hero Mike Wazowski, who has opened a comedy club to collect laughs that will generate electricity for the monster world of Monstropolis. As Monster-of-Ceremonies, Mike recruits two comedian wannabes whose slapstick humor delights and engages audiences. You will even get to text-message jokes on your cell phones for possible use in the show. The fun reigns at a 400-seat theater in Tomorrowland.
Dream Along with Mickey. Several times daily, Mickey and friends will treat Magic Kingdom guests to a dreams-inspired party on the forecourt stage of Cinderella Castle. Favorite Disney characters join the party as the dreams of happily-ever-after and adventure come alive on stage amid music and dancing. So strong are the dreams that they even overcome Maleficent and her intentions of turning the dreams into nightmares. A grand finale brings the 20-minute live stage show to a close.
Stroll down main street in Magic Kingdom which is a representation of small town America at the turn of the 20th century. Here you can take a ride on a horse-drawn carriage, jitney or fire engine to Cinderella's Castle. You can see the daily Share a Dream Come True parade where you will see your favorite Disney Characters and stories brought to life. Get aboard the Walt Disney World Railroad. This steam train takes you on a nostalgic one-and-a-half mile journey around Magic Kingdom with stops along the way. This place bustles with life during the day with all the accoutrements of yesteryear including horse drawn trolleys, old fashioned cars and more. There's even an authentic Barber Shop.
Steam train ride to Frontierland and Mickey's Toontown Fair. Great way to cool off on a hot day or to hop from one area of the park to another. We seem to remember this ride being more scenic in the earlier years of the park. Still it's fun to ride an old locomotive.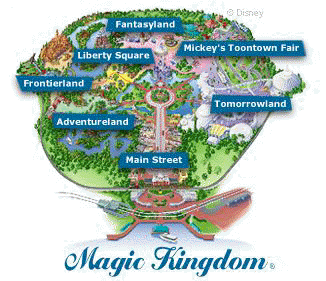 - The original
Disneyland
favorite has made its way to Florida. As night falls, music fills the air and the brilliantly lit parade floats cast a magical glow. The Blue Fairy. Cinderella's Carriage. Elliot the Dragon. They're all here. Some appearing for the first time ever in Florida traveling down Main Street, U.S.A. Area into
Adventureland
Area and
Frontierland Area
.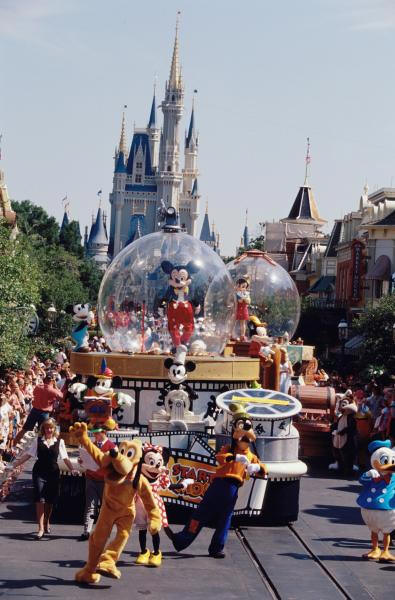 Share a Dream Come True Parade-

Beginning with Mickey and ending with a fairy-tale finish, this spectacular parade of giant Disney snow globes is a tribute to all those stories and characters that have touched hearts down through the years. From start to finish, it's a flurry of classic Disney moments frozen in time. This fantastic parade includes more than a hundred Disney Characters, brought to life through music, magic, and special effects ™ Nighttime Spectacular - You will wish upon a star and then marvel as the nighttime sky comes to life in a musical firework spectacular that is uniquely Disney. Jiminy Cricket guides Pinocchio, Cinderella, Ariel, Peter Pan and other Disney characters through this fantastic story told amongst the stars. This show features a dazzling array of never before seen fireworks and pyrotechnic effects created specifically for this show.

Dining on Main Street

- See some of your favorite Disney characters at this wonderful eatery. Here you will enjoy a bountiful buffet inspired by the seasons while seeing Winnie the Pooh and your other favorite Disney characters. offers a nostalgic atmosphere. Enjoy individual pan pizzas, fried chicken strips, specialty sandwiches and ice cream fountain treats.

Tony's Town Square- restaurant inspired by the Lady and the Tramp. You can indulge on specialty pastas, sandwiches and pizzas.

Casey's Corner-Bring a taste of the ballpark to Main Street, with hot dogs, French fries and beverages.

Main Street Bake Shop- Serves tasty and tempting snacks like cookies, pastries and other fresh baked goods all day long.

Plaza Ice Cream Parlor- All your favorite flavors are scooped up daily in this little hometown ice cream shop.

Shopping on Main Street

Emporium is the largest gift shop inside the Magic Kingdom which offers many toys, stuffed animals, clothing, candy and more. You can also find great Disney fashions at Disney Clothiers, The Chapeau and Main Street Athletic Club. For household items make sure you check out the Markethouse, Crystal Arts, Firehouse Gift Station, Uptown Jewelers.

Get Your Disney Vacation Package pricing now
WDWVacationplanning.com ©2006-2008

Disney artwork, logos & properties: ©Disney | Disney Cruise Line

Ship Registry: The Bahamas