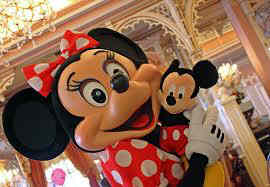 Breakfast in the Park with Minnie and Friends Sit down to a fantastic feast at the popular Plaza Inn on Main Street U.S.A.. Here you will feast on a delectable buffet of breakfast items for a one of a kind breakfast experience you are sure to treasure. Have that pen and autograph book and camera handy as Minnie Mouse and her pals stop by your table and visit with you.$$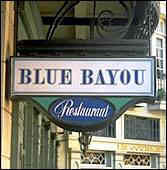 Blue Bayou - When sitting down and enjoying a fine meal is what you are looking for, come on down toh te Bayou. Enjoy the down home cookin' of this Louisiana style eatery in New Orleans Square for lunch or dinner. $$, Specialties include mouth watering grilled fish, gumbo, jamabalya, beef, Monte Crisco sandwich, savory soups, salads and desserts.

Cafe Orleans - Find great breakfast goods, deli sandwiches and flavored coffees for either breakfast or lunch on Main Street U.S.A. $$ Specialties: Croissants, muffins, chocolate chip cookies, cinnamon rolls and sticky buns.
Carnation Cafe - When you want to relax in a quaint eatery on Main Street U.S.A., this is the place, serving Breakfast, Lunch and Dinner of American classics. $, Specialties include Mickey Mouse waffles, "Butcher Block" sandwich plates, chicken pot pie, and roast beef.
French Market Restaurant - Enjoy the "Big Easy" in this pleasant eatery under the trees in New Orleans Square. Serving lunch and dinner you are sure to find a favorite among the great Southern cooking as you listen to the Dixieland Jazz bands. $, Specialties Jambalaya, fried chicken, soups, salads and cheesecake.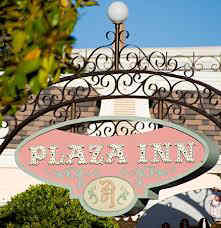 Plaza Inn - Located on Main Street, this grand Victorian restaurant offers you the charm of earlier days. Serving Lunch and Dinner, here you will feast buffet style. $ Specialties pastas, chicken, pot roast, kosher and vegetarian, and specialty desserts.
Rancho del Zolcalo Resturante - When you want to feast on delicious south of the border fare for breakfast, lunch or dinner, this is the place. Located in Frontierland this hacienda captures the spirit of early California's heritage. $, Specialties western barbeque featuring chicken and ribs, nachos, burritos, tacos and scrumptious desserts.
Redd Rockett's Pizza Port - In the future you will stilll realize pizza is a popular favorite. Head over to Tomorrowland for lunch or dinner and enjoy your meal being prepared before your eyes. $, Specialties giant pizza slices, generous portions of pasta, ceasar salad and a variety of desserts.
River Belle Terrace - This is a favorite among many including Walt himself in Frontierland. Whether it is for breakfast, lunch or dinner, you will enjoy the ornate decoration of this elegant manor with your choice of dining inside or out on the beautiful patio. $$, Specialties Mickey Mouse pancakes, steak, sandwiches, vegetable stew served in a bread bowl, herb-baked chicken, fish, and fresh fruit platters.
Disney's California Adventure
Wine Country Trattoria - When casual is what you prefer, indoors or out, this great place offers a relaxing time for lunch or dinner. This family friendly eatery in Golden State serves up Napa Valley favorites. $$, Specialties such as luscious lasagna, baked pastas, grilled sandwiches and satisfying soups.
The Vineyard Room - Enjoy an exquisite evening out for dinner at this elegant Golden Vine Winery located in Golden State where food and wine are paired together in a tasteful tradition. $$$, Specialties include the finest pastas, seafood's and gourmet salads.
Terrace Wine Tasting - A favorite for family and friend gatherings located in Golden State. Here you can sit back and enjoy the beautiful hand carved stone fountain and music that make this place the perfect environment for relaxation. Wines are available for tasting by the glass or bottle. You will learn from the experts as you taste a splendid array of the fruit of the vine. $$
Counter Service Locations
Cocina Cucamonga Mexican Grill - Here in Golden State you can set your sites on a menu of savory Mexican and Californian flavors. $,Specialties of the house are tacos, carne asada, carnitas, nachos all made from freshly prepared tortillas.
And for quick bites try these wonderful locations; Corn Dog Castle, Fairfax Market, Malibu-ritos, Pacific Wharf Cafe, Pizza Oom Mow Mow, Rita's Baja Blenders, Sam Andreas Shakes, Schmoozies, Strips Chips and Dip, Taste Pilot's Grill, The Lucky Fortune Cookery.
Start Planning your Magical Disneyland Vacation Now!