Home
Disney World Orlando Year of a Million Dreams
Planning & Pricing Services Price Quote
Disney World Resorts Deluxe Disney Vacation Club Moderate Value
Orlando Hotels Airfare Orlando Attractions Rental Car Book Hotel Now
Disney Packages Magic Your Way Magical Gatherings Groups
Theme Parks Magic Kingdom AnimalKingdom MGM Studios Epcot
Water Parks Blizzard Beach Typhoon Lagoon
Downtown Disney Cirque Du Soliel Marketplace Downtown Westside
Character Dining FAQ's Advanced Dining Reservations Locations
Tickets Discounted Tickets Magic your Way Park Hoppers Water Parks Orlando Attractions
Pricing Disney World All Inclusive Packages Room only Tickets only
Adventures by Disney Vacation Destinations 2008 Vacation Packages
Disney Cruise Itineraries Bahamas Caribbean Mediterranean Mexican Riviera Vacation
Staterooms Cat.12,11,10 Inside Cat.9,8 Oceanview Cat. 7,6,5 Balcony Cat.4 Family Suite Cat. 3,2,1 Suites
Activities Kids Teens Toddlers Adults Pirates in the Caribbean Deck Party Cruise Dining Disney Cruise Pricing Cruise Articles
Disneyland California Resorts Grand Californian Disneyland Hotel Paradise Pier
Packages Resort Magic Magical Beginnings Special offers
California Hotels Airfare California Attractions Rental Car Book Hotel Now
Hotels Good Neighbor Anaheim Hotels
Theme Parks Disneyland California Adventure Theme Park Dining Disneyland Pricing
Articles Win a FREE Disney Movie DVD Site Map Who we are Client Comments Other resources
We had a wonderful time. Purchasing hopper passes is definitely the way to go. It was so convenient to be able to use the room key for entrance to all the parks. as well as the attractions with Fast Pass lanes. Thanks for arranging our vacation. Loni W.

Upon entering the parking grounds of Epcot, one can't help but to notice the giant golf ball looming in the distance. Spaceship Earth is the official name and it is the icon of Epcot. Inside there is actually an attraction that discusses communications from early cave man days to present day and beyond. Epcot Center is double the size of the Magic Kingdom and is shaped in an hourglass design. As soon as you enter Epcot, you will notice several obelisk like structures with tiny photographs on them. This is the Leave a Legacy Sculpture Garden. Proceeding underneath Spaceship Earth, you will encounter Innoventions East and West. This is where you will also make your choice to visit Future World or proceed to World Showcase. You will find dining available throughout the park.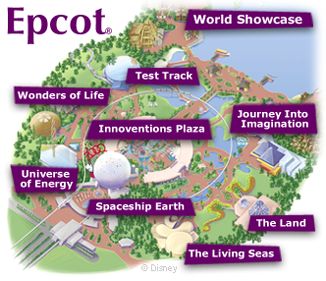 Traveling in a counter clockwise direction, you will encounter the following pavilions: The Living Seas, The Land, Imagination!, Test Track, Wonders of Life, and Universe of Energy. Located just behind Spaceship Earth are Innoventions East and West.
Attractions in Epcot
Spaceship Earth - Travel through time and space within this world renowned 180–foot–tall geosphere to discover communications at work. Dazzling scenes of life in the 21st century's Global Neighborhood depict every corner of our world drawn closer through new technologies.
Mission Space - The newest attraction at Epcot offers guests a one-of-a-kind simulated space adventure -- from heart-pounding liftoff to the weightlessness of outer space.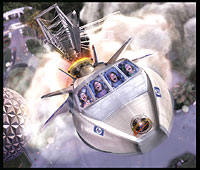 From breakthroughs in exploratory medicines to the ultimate in home theater, Innoventions will amaze you as you see and touch all the incredible technology that will be changing our lives as we enter the next century.

Sea Base Alpha - Descend fathoms into an incredible undersea world at Sea Base Alpha. It's the largest salt water environment ever built by anyone. View tropical fish, sharks and manatees, while exploring the secrets of a new frontier.

Celebrate the Land - Horticulture goes high tech. Cruise through dramatic scenes from America's agricultural heartland, then explore prototype greenhouses and the wonders of cutting edge technology.
The Circle of Life - Characters from Disney's The Lion King roar to life in a new environmental fable. Simba, Pumba, and Timon star in this lighthearted film that combines animation and live action to tell the story of how we interact with the environment, for good and bad. Located at the Circle of Life Theater. This is a 20–minute film
Food Rocks-Arena Rock gets an edible twist in this musical tribute to nutrition featuring some of today's tastiest tunes. It's the coolest thing to happen to food science since the refrigerator.
Behind the Seeds - Discover amazing things about plants, pest management, hydroponics, biotechnology, and fish farming during this one–hour walking tour with an agricultural specialist, who will take you backstage in the Land greenhouses and labs.
Imagination - Ride Enter the Imagination Institute where your IQ (Imagination Quotient) is supercharged with out of this world experiences and unimaginable illusions. Your brain may never be the same. Afterwards, check out The Image Works and stretch your imagination in an interactive playground.
Honey, I Shrunk the Audience - Professor Wayne Szalinski is at it again and this time you're the one who gets shrunk. This interactive adventure goes beyond 3D with incredible special effects and awesome surprises. You will not believe your size.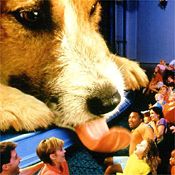 Test Track Ride - Buckle up and take the ride of your life up bumpy terrain, through hairpin turns, into freezing cold chambers, and on to 50–degree banked curves at 60 miles an hour. It is a hair raising challenge and this time, you are the test driver. (Must be 40" to ride alone)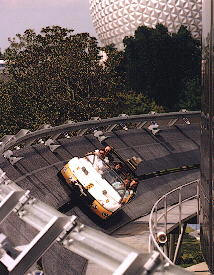 Cranium Command - Go inside the mixed up mind of a 12year old and enjoy the hilarious antics of famous comedians playing the roles of his heart, brain, stomach, and even adrenaline.
Body Wars - Shrink down to the size of a blood cell and take a turbulent ride through the human body. This flight simulator style attraction races through a larger than life version of the heart, lungs, and brain on a mission to rescue a scientist trapped in inner space. (must be 40" to experience this attraction)
Fitness Fairgrounds- Several different exhibits including improvisational comedy with the Anacomical Players. An evaluation of your sports prowess at Coach Corner, Goofy's animated hijinks in Goofy About Health, and a chance to test your senses at Sensory Funhouse.
Universe of Energy Ride - Join Ellen's Energy Adventure, and visit a time when dinosaurs ruled the earth. Your celebrity host dreams she is on Jeopardy only to find out that all categories deal with the one thing she knows nothing about, energy!
Get Your
FREE Disney World Vacation
Quote now
Home Disney World Resorts Disney Packages Tickets
---
WDWVacationplanning.com ©2006-2008

Disney artwork, logos & properties: ©Disney | Disney Cruise Line

Ship Registry: The Bahamas