Home
Disney World Orlando Year of a Million Dreams
Planning & Pricing Services Price Quote
Disney World Resorts Deluxe Disney Vacation Club Moderate Value
Orlando Hotels Airfare Orlando Attractions Rental Car Book Hotel Now
Disney Packages Magic Your Way Golf Getaway Honeymoon Escape Magical Gatherings Groups/Conventions Vero Beach Resort
Theme Parks Magic Kingdom AnimalKingdom MGM Studios Epcot
Water Parks Blizzard Beach Typhoon Lagoon
Downtown Disney Cirque Du Soliel Marketplace Downtown Westside
Character Dining FAQ's Advanced Dining Reservations Locations
Tickets Discounted Tickets Magic your Way Park Hoppers Water Parks Orlando Attractions
Pricing Disney World All Inclusive Packages Room only Tickets only
Adventures by Disney Vacation Destinations 2007 Vacation Packages
Disney Cruise Itineraries Bahamas Caribbean Mediterranean Mexican Riviera Vacation
Staterooms Cat.12,11,10 Inside Cat.9,8 Oceanview Cat. 7,6,5 Balcony Cat.4 Family Suite Cat. 3,2,1 Suites
Activities Kids Teens Toddlers Adults Pirates in the Caribbean Deck Party Cruise Dining Disney Cruise Pricing Cruise Articles
Disneyland California Resorts Grand Californian Disneyland Hotel Paradise Pier
Packages Resort Magic Magical Beginnings Special offers
Articles Site Map Who we are Client Comments Other resources
We really had a great time. The fast passes made a huge difference. We look forward to our next vacation with you. Sincerely David W.

The Disney Hollywood Studio immerses guests into the Hollywood Golden Era of movie making. Designed in 1940 Art Deco style, with neon and chrome the "theme" of this Disney theme park is the movies!
Unlike the other three theme parks of Walt Disney World, there are no distinct lands in Disney Hollywood Studio. Rather, there are streets with familiar names that house the attractions, stores, and restaurants. Guests enter on Hollywood Boulevard, the main thoroughfare of Hollywood Studio that leads guests to the hub.
From there, you can go to Sunset Boulevard, Animation Courtyard, Mickey Avenue and New York Street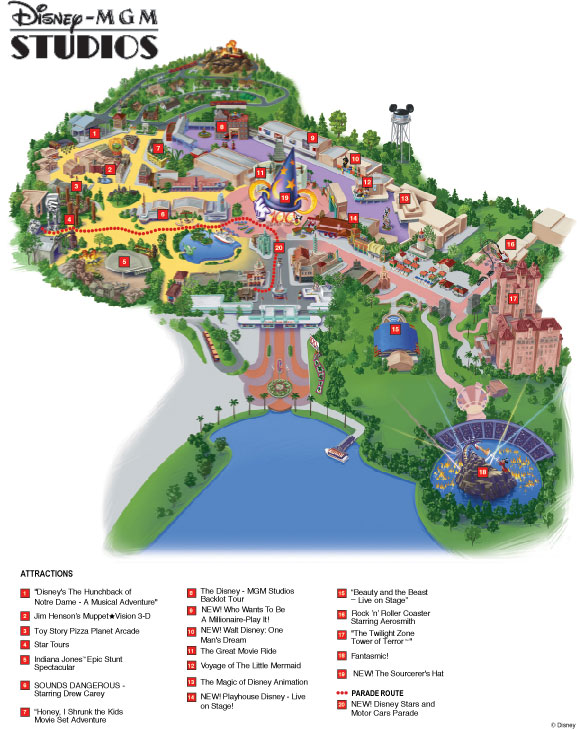 50s Prime Time Café
Eat in the kitchen of your favorite 1950s sitcom either for lunch or dinner. You'll watch vintage TV as you enjoy good home cooking just like those TV moms used to make. But please, keep your elbows off the table. $$,Specialties: Meatloaf, chicken, pot roast, and milk shakes

Hollywood & Vine
Experience the glamorous days of 1940s Hollywood when everyone wanted to perform. You can watch your American cuisine dinner being prepared in the kitchen. $$, Specialties: American Buffet Dinner.

Hollywood Brown Derby
This restaurant, modeled after the original Hollywood Brown Derby in California, brings together all the elegance of old Hollywood with some of the finest American food and wine you'll ever experience. Plus, unmatched atmosphere that'll make anyone feel like a real celebrity for lunch or dinner. $$$, Specialties: Changing seasonal menu include: Original Cobb salad, grilled filet mignon, chicken, seafood selections.

Mama Melrose Ristorante Italiano
Home-spun Italian setting reflecting a California influence serving lunch and dinner, located steps away from the Muppet Courtyard. $$, Specialties: Brick-oven baked pizza, pasta selections with seafood, steak and vegetarian selections

Sci-Fi Dine-In Theater
Return to the thrilling days of drive-in movies. You'll sit in a vintage '50s convertible and be treated to some of the most wonderfully wacky sci-fi movie clips as you sample an out-of-this-world American menu of lunch and dinner mealtime favorites. $$, Specialties: Chicken, steak, pasta, burgers, and assorted sandwiches

---
WDWVacationplanning.com ©2006-2008

Disney artwork, logos & properties: ©Disney | Disney Cruise Line
Ship Registry: The Bahamas