Home
Disney Cruise Itinerary Bahamas Cruise Caribbean Cruise Mediterranean Cruise Mexican Riviera Vacation
Disney Cruise Staterooms Inside Stateroom Oceanview Stateroom Balcony Stateroom Family Cruise Suite One and Two Bedroom Suites
Disney Cruise Activities Pirates in the Caribbean Deck Party Disney Cruise Dining Disney Cruise Pricing
Disneyland Resort California Resorts Grand Californian Disneyland Hotel Paradise Pier
Vacation Articles Win a FREE Disney Movie DVD Site Map About Us
Disney Cruise Line

http://ncvw.cruising.org/wdwvacationplanning
Announcing the NEW Disney Cruise itineraries for 2012. This is the first time ever for the Disney Cruise Line to call the Port of Galveston, Port of New York, Port of Seattle home for the Disney Magic.

During 2012, the

Disney Magic Cruise ship will sail from Galveston, Texas on 7 night cruises to the Western Caribbean. Making stops at Grand Cayman, Cozumel, and Costa Maya and spending 3 amazing days at sea. These 7 night itineraries will set sail beginning in September of 2012 with cruises scheduled for the following dates; Sept. 22, Sept. 29, Oct. 6, Oct. 13, Oct. 20, Oct. 27, Nov. 3, Nov. 10, Nov. 17, Nov. 24, Dec. 1, Dec. 8

New to 2012, the Disney Cruise Line will sail from New York for

2 night New England cruises, 5 night New England coast cruises and 8 night Bahama cruises on the Disney Magic.

The

8 night Bahama cruise will include stops at Nassau, Disney's Private Oasis Castaway Cay and a stop at Port Canaveral where guests can enjoy 1 day at Walt Disney World. Round trip transportation and admission tickets to the Disney Parks are included as part of the cruise.

The 8 night Disney Bahamas cruises will sail on May 25, 2012, June 22, 2012, June 30, 2012, July 20, 2012, July 28, 2012, Aug. 17, 2012, Aug. 25, 2012. Perfect for magical family summer vacations.

The

5 night New England Coast cruises on the Disney Magic will make stops at Nova Scotia, New Brunswick and Saint John where guests can explore the history of these amazing locations, shop in some of Canada's oldest markets and take in the most beautiful natural surroundings. Available on June 10, 2012, June 17, 2012, July 8, 2012, July 15, 2012, Aug. 5, 2012, Aug. 12, 2012, Sept. 2, 2012, Sept. 7, 2012 and Sept. 12, 2012.

The 2 night cruises onboard the Disney Magic will allow guests to take a quick weekend getaway and spend an amazing day at sea, enjoying all the onboard Broadway style shows and dining on some delectable foods while enjoying the pampering that only the Disney Cruise Line knows how to provide.

The 2 night New York cruises will be offered only on June 15,2012, July 13, 2012, and Aug. 10, 2012. Remember, these Special cruise itineraries will fill up quickly. To secure the best room at the lowest possible rate, reserve your cruise early

!

New for 2012, the

Disney Magic will offer Alaskan cruises again, but this time will sail from Seattle (No passports required, can we hear a Yahoo!) The 7 night itineraries will depart Seattle and stop at amazing ports of call in Juneau, British Columbia, Ketchikan and Skagway.

For the first time ever, Disney Cruise Line departs Los Angeles for the Hawaiian islands. This Hawaiian 15 night Disney cruise is a once in a lifetime opportunity to cruise Hawaii's most popular destinations. Sailing only on April 29, 2012.

You can take part in some amazing on land excursions, including traveling by railroad for breathtaking sites, and even pan for gold. These amazing Disney Alaskan cruises sail on May 28, 2012, June 4, 2012, June 11, 2012, June 18, 2012, June 25, 2012, July 2, 2012, July 9, 2012, July 16, 2012, July 23, 2012, Aug. 6, 2012, Aug. 13, 2012, Aug. 20,2012 and Aug. 27, 2012.

Port Canaveral is home to the newest ship to join the Disney Cruise Line fleet, the Disney Dream. The Disney Dream will be sailing the Bahamas from Port Canaveral, Florida for 3 night, 4 night and 5 night Bahamian itineraries. The NEW Disney Fantasy that will make its maiden voyage in April 2012, will be sailing the Eastern and Western Caribbean itineraries.

The Disney Wonder that now calls the Port of Los Angeles home will continue sailing to the Mexican Riviera.

Mediterranean cruises found only on the Disney Cruise Line. are offered in summer of 2011 and sail out of Barcelona Spain.

Your Disney cruise is an adventure complete with ultimate relaxation and the special touch of magic only Disney can provide. Every day you can go behind the scenes and discover the art of Disney entertaining. At night music will dazzle you at the amazing Broadway style Disney shows. Fun filled rotational dining await you. Adults can enjoy fine dining, a Champagne Brunch, Spa treatments, Health Club facilities or just relax and bask in the sunshine.

Children can participate in a wide variety of special activities designed just for them including shows, hands on activities and Character meet and greets. There's something different every day and every night, so you can do as much or as little as you like while you sail away to paradise.

To receive the lowest possible price on your Disney Cruise vacation you should make your

cruise reservations

early and take advantage of early booking specials.

Disney Cruise Line offers such an amazing product that there is always a very high demand and space is limited. For

cruise planning made easy

, click the link or

CALL NOW

1-888-WDW-PACK

(1-888-939-7225)

to speak to a Disney Cruise Expert

Don't wait another day,

start planning your

magical cruise vacation today!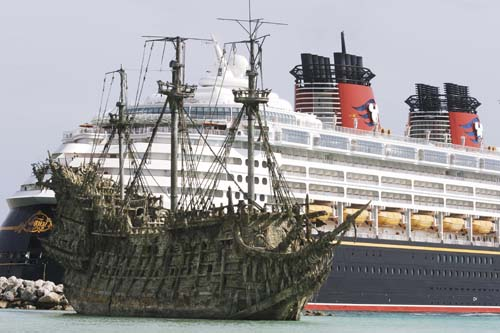 Pirate Ship Sighted at Castaway Cay

Brave enough to encounter pirates? Then you've come to the right place

.

T

he ship is known as the Flying Dutchman which is a ghost ship created for Pirates of the Caribbean Dead Man's Chest. Unlike any pirate ship ever created, this ship is destined to haunt the open seas for eternity.

While your enjoying your day at Castaway Cay, be on the lookout for the infamous Captain Jack Sparrow.

Disney Cruise

Vacation

Quote
---

WDWVacationplanning.com ©2006-2012

Disney artwork, logos & properties: ©Disney | Disney Cruise Line
Ship Registry: The Bahamas