Home
Disney World Orlando Planning & Pricing
Disney World Resorts Disney Packages Theme Parks Magic Kingdom AnimalKingdom MGM Studios Epcot
Adventures by Disney Vacation Destinations
Disney Cruise Itineraries Bahamas Caribbean Mexican Riviera Vacation
Staterooms Cat.12,11,10 Inside Cat.9,8 Oceanview Cat. 7,6,5 Balcony Cat.4 Family Suite Cat. 3,2,1 Suites
Activities Kids Teens Toddlers Adults Pirates in the Caribbean Deck Party Cruise Dining Disney Cruise Pricing Cruise Articles
Disneyland California Resorts Packages Theme Parks Disneyland Disneyland Pricing
Articles Win a FREE Disney Movie DVD Site Map Who we are Client Comments Other resources
On a scale of 1-10, the vacation was a 15. I had 3 grandchildren with me and all 3 had a blast. They loved the groups that they were with on the cruise and we saw very little of them. They made new pen mails aboard. The entertainment was fabulous, the characters were exceptional. It was truly a memorable vacation. If we could, we would do it again next year. I have already told Several friends and co-workers to plan for this trip. Truly it was a great vacation...Lillian V.
On board Activities for Kids, Teens, Toddlers, Adults and the whole Family

Yo Matey!!

Experience Pirates IN the Caribbean as you take part in this swashbuckling onboard party available online on the Disney Cruise Ships. This party is perfect for the entire family. Enjoy food, fun and watch out them pirates are going to take over the ship. Don't ya worry, Captain Mickey will take care of you.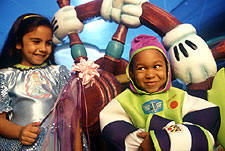 Where are the kids? They are having the time of their lives! They are enjoying programs designed just for them and taking part in non-stop fun that is available all day and into the night.
Disneys Oceaneer Club (ages 3-7, Deck 5) provides your children supervised activities, opportunities to meet their favorite Disney Characters. Your kids have discoveries waiting for them at the Oceaneer Club. Your little cruisers will have the times of their lives in a special place just for them, with playgrounds, computer stations, costume dress-up areas, Disney Characters and imaginative programs such as dancing with Snow White and storytelling with Belle.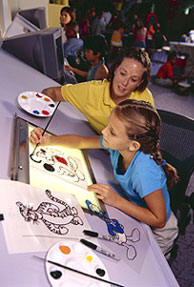 Disneys Oceaneer Lab will keep your children (ages 8-12) experiencing hands on activities with a fantastic variety of interactive lab stations, amazing amount of video screens, computer stations, gadgets, doohickeys and scientific stuff. Your kids will learn the secrets of Disney animation or provide voices for a radio show in this fun filled hands on program.
Children participating on these programs are safe and secure. Each counselor has been specifically trained to make sure your child has a great time. You will receive a pager at check in which will allow you to be easily reached if the need arises. So go take that stroll deckside, enjoy a romantic dinner at Palos and know your kids are in great hands.
Teens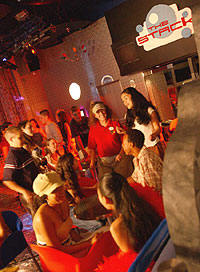 Teens (ages 13-17) have their own personal getaway packed with music, computers, TVs, lounge area, dance floor, Internet cafè and plenty of atmosphere to spare. Your teens will gather here because it is their place. Complete with dance parties, sports and teen programs like digital photography, videography, group fun this is your teenagers chance to have a vacation every bit as wonderful as yours! Teens can hang out at their own New York-style coffeehouse, Common Grounds and dance the night away high atop the ship, and more!

On Disneys private island, Castaway Cay, your teens will take part in the team challenge, actually designing, building and racing a (hopefully) seaworthy vessel. In addition your teens will take part in beach events, sand volleyball and more, You teens can take part in a special adventure where they can snorkel, bike and kayak through remote parts of this pristine island. You will find that there are endless activities your teens!

▲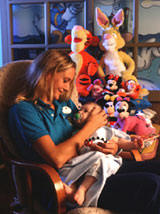 Your Children under the age of 3 can receive special attention from Disney care-givers at Flounder's Reef Nursery. This whimsical soft play nursery is open select hours every day for your convenience. You are only a "page" away.

* $ per hour (1st child), $ per hour (additional infants), 2 hour minimum. First-come-first-serve basis, please make reservations at the time of embarkation. Nursery is open select hours every day. Infants under 12 weeks of age are not permitted to travel on Disney Cruise Line®. Rates are subject to change without notice.

Throughout your voyage, activities and areas designed especially for you welcome you to indulge. Massage tables beckon onboard and onshore. Dance floors await with live music and dazzling lights. A world of romance, fun and relaxation surrounds you onboard ship and on Disneys private island, Castaway Cay. You can grab some time for yourself with a topside workout on the Wide World of Sports Deck. Savor the moment with a visit to the private espresso bar. Try a cooking demonstration or a backstage tour, or step into the Tropical Rain Shower at the Vista Spa & Salon, you will feel the essence of passion fruit begin to cleanse your skin. It's the first in a series of completely decadent spa treatments, so give yourself a gift!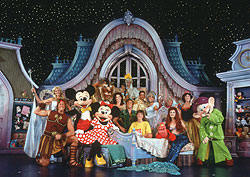 Leave it to the world's greatest entertainers to bring you the world's greatest entertainment at sea. The Walt Disney Theatre is a testament to this, offering a magnificent tribute to the grand theatrical palaces of yesteryear, with live original Disney productions.

Movie buffs will enjoy new releases and Disney classics at the Buena Vista Theatre. If you're looking for great family-style entertainment, then be sure to stop by Studio Sea, where you'll find games and music everyone will enjoy. The Walt Disney Theatre, a magnificent tribute to the grand theatrical palaces of long ago. Take a seat in a floating showplace designed for the most magical theatrical presentations ever performed at sea.

Whether youre on the Disney Magic or the Disney Wonder, this 1,022-seat theatre spans three decks on the ship and offers a dramatic setting for original Disney productions with state-of-the-art staging, lighting and special effects. The theatre features a variety of shows done the Disney way.

Toy Story Musical

(3 & 4 night sailings only)

Marvel as the toy sized world of Buzz and Woody comes to life right before your eyes and ears in "Toy Story The Musical," the new Broadway-style show now playing exclusively aboard the Disney Wonder. Based on the hit Disney Pixar animated movie, this innovative adaptation preserves all of the humor and heart of Buzz and Woody's very first adventure together, and is destined to surprise and delight everyone in your family.

The Golden Mickeys

(All sailings)

It's Lights, Cameras, Action! as you step onto the red carpet leading into the Walt Disney Theatre for a glamorous awards tribute to the most cherished songs from Disneys classic films. Honor your favorite Disney heroes and villains in this brilliant production that brings Disney's greatest musical hits to life.

Disney Dreams An Enchanted Classic

(All sailings)

Join Peter Pan as he leads you on a magical musical adventure where dreams really do come true. Discover the power of faith, trust and pixie dust as Aladdin, Jasmine, Cinderella, Ariel, Sebastian, Belle, Simba and other favorite Disney characters bring treasured Disney songs to life on the stage of the Walt Disney Theatre. Wish upon a star as you celebrate an enchanted evening to cherish forever.

Twice Charmed -An Original Twist on the Cinderella Story

( 7 Night Sailings)

Discover a classic tale told in a brand new way in this marvelous musical with a brilliant cast, colorful costumes, sensational sets, wonderful new songs, and a surprising twist: Cinderella's evil stepmother hires a Fairy Godfather, who rewrites the course of history and forces Cindy to endure a whole new series of hardships. But her belief in herself -- and her dreams -- lead to a happily ever after you'll never forget! Disney Magic®

Welcome Aboard Variety Show ( 7 Night Sailings)
This exciting show features singers, dancers and variety acts. It's a welcome aboard fanfare that invites Guests to sit back for a fun-filled week.

Magical Farewell

( 7 Night Sailings)
This show wraps up all the magic of your Disney Cruise Line® vacation, as performers celebrate the Guests' week of shipboard activities and island-hopping.

Get Pricing Now on Your Disney Cruise Vacation
---
WDWVacationplanning.com ©2006-2009

As to Disney artwork, logos & properties: ©Disney | Disney Cruise Line

Ship Registry: The Bahamas