Home
Disney World Orlando Planning & Pricing Disney World Resorts Disney Packages
Adventures by Disney Vacation Destinations
Disney Cruise Itineraries Bahamas Caribbean
Staterooms Cat.12,11,10 Inside Cat.9,8 Oceanview Cat. 7,6,5 Balcony Cat.4 Family Suite Cat. 3,2,1 Suites
Activities Kids Teens Toddlers Adults Pirates in the Caribbean Deck Party Cruise Dining Disney Cruise Pricing Cruise Articles
Disneyland California Resorts Packages California Hotels Airfare California Attractions Rental Car Book Hotel Now
Theme Parks Disneyland Disneyland Pricing
Articles Win a FREE Disney Movie DVD Site Map Who we are Client Comments Other resources
It was absolutely WONDERFUL!!!! The Disney Cruise was awesome and the food was great! We had the time of our lives. We would do this again in a heartbeat!!! Michelle L.

What's all the fuss about? Even though the Disney Cruise Line

® Ships have been around now for over a decade, many have not yet seen or experienced what the fuss is all about.

The Disney Cruise Ships, the *NEW* Disney Dream™ Disney Magic® and Disney Wonder® offer unique cruise cabins, incredible Disney entertainment, fun filled children's activities which expand their imagination, awesome teen clubs and activities, adult entertainment, spas, fitness center and impeccable guest service. With so many cruise itineraries to choose from, your family will find one to best suit your needs. You haven't lived until you have cruised!
Experience the Disney Magic
in a whole new way and treat your family with a 7 night Caribbean cruise, or even a European cruise.

Onboard the Disney Dream you will sail to either 3 day Bahama cruise, a 4 day cruise to the Bahamas or 5 night Bahama Cruise.

The Disney Wonder will have you cruising to Alaska, or sailing the Mexican Riviera.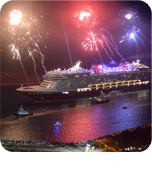 Fireworks, water pageantry and cheering fans greeted the newest ship, the Disney Dream in the Disney Cruise Line fleet as it arrived for the first time at Port Canaveral, Fla. Hundreds of people lined the shores before sunrise to catch a glimpse of the Disney Dream, which features the first water coaster at sea and other innovations. Meanwhile, the Disney Wonder departs for its new home on the West Coast.

Disney Dream, Disney Magic and the Disney Wonder having been inspired from the past, these great ocean liners are designed to meet everyone in your family's expectations.

Onboard you will enjoy spacious cruise cabin accommodations, the largest cabins onboard any cruise ship. You can take advantage of activities, dining, entertainment, the pools, fitness center. On shore, at your ports of call, enjoy the history of your destination, shop, sight see, and take part in a wide variety of activities for all ages. Children will find their clubs filled with Disney magic, character encounters, hands on activities.

In order to get the best possible pricing on your next Disney Cruise, we need to

reserve your cabins early and take advantage of early booking specials.

With such an amazing product the Disney Cruise ships sell out 85% of all cruise itineraries way in advance.

For

cruise planning made easy

,

click or

call now

1-888-WDW-PACKages

to speak to our personal Cruise Specialist.

Don't wait another day, start planning your magical cruise vacation today!
What guests have to say; We had a PERFECT honeymoon!
The Disney Cruise was awesome and the food was great!
Our holiday was absolutely fantastic! The Disney Cruise was an incredible experience and I highly recommend it.
On a scale of 1-10, the vacation was a 15. I had 3 grandchildren with me and all 3 had a blast. They loved the groups there were with on the Disney cruise and we saw very little of them. They made new pen mails aboard. The entertainment was fabulous, the characters were exceptional!
Get Your

Discount Disney Cruise Pricing Now

---

---

WDWVacationplanning.com ©2005-2011
Disney artwork, logos & properties:
©Disney | Disney Cruise Line

Ship Registry: The Bahamas