Home
Disney World Orlando Planning & Pricing Services Price Quote Disney World Resorts Disney Packages
Theme Parks Magic Kingdom AnimalKingdom MGM Studios Epcot
Adventures by Disney Vacation Destinations
Disney Cruise Itineraries Bahamas Caribbean Mexican Riviera Vacation
Staterooms Cat.12,11,10 Inside Cat.9,8 Oceanview Cat. 7,6,5 Balcony Cat.4 Family Suite Cat. 3,2,1 Suites
Activities Kids Teens Toddlers Adults Pirates in the Caribbean Deck Party Cruise Dining Disney Cruise Pricing
Disneyland California Resorts Packages
Theme Parks Disneyland California Adventure Theme Park Dining Disneyland Pricing
Articles Win a FREE Disney Movie DVD Site Map Who we are Client Comments Other resources
Our Disney vacation was perfect and the two grandkids were thrilled. Everything went off without a hitch and we couldn't have planned a better time of it. Thanks for all your help...Cheryl J.
Dining is magic onboard the Disney Cruise Ships is an exciting event more than simply a meal. Disney Cruise Line offers rotational dining, which allows for a different experience each night in a themed restaurant. The restaurants onboard Animator's Palate, Parrot Cay, Lumiere's and Triton's come complete with your own personal wait staff who rotate with you and your family. Each restaurant has its own magical touch and a variety of delicious cuisine. In addition to the main restaurants there are many other flexible dining options that provide quick meals on deck and room service or for the couples romantic seaside dining at Palo's. The Seven-night Disney cruises feature a magical breakfast with the characters that is sure to start any day off great!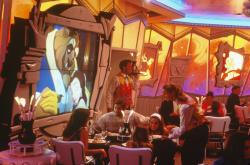 This is truly a magical restaurant that transforms itself from black and white to brilliant colors as your meal progresses. Layer upon layer of color is added to the accompaniment of synchronized music and classic scenes from Disney's cherished animated films. Scenes from classic Disney films adorn the walls, and as each course is served colors are added to the scenes. Be prepared for a fun and festive surprise end to your meal!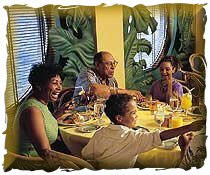 With island-themed decor, this brightly-colored restaurant gives you a taste of the Caribbean

. Lush palms, tropical birds and beautiful murals give you the feel of eating in your own bit of island paradise.

Lumiere's (onboard the Disney Magic)
Named after the candelabra from Disney's Beauty and the Beast, this elegant restaurant features fine French dining in a stately yet comfortable room, complete with a mural from the movie and large windows on each side of the room to catch a glimpse of the awesome view. Jackets are suggested for men..
Triton's
(onboard the Disney Wonder)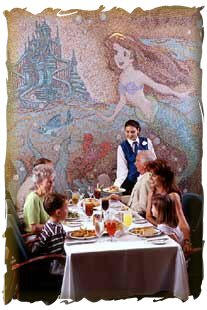 The Disney Wonder's special restaurant is themed after Disney's Little Mermaid. This fun filled atmosphere offers fine seafood in an inviting aquatic theme. Jackets for men are suggested.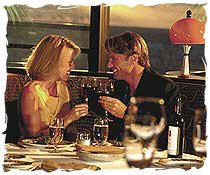 With it's ocean view from high atop the ship on Deck 10, Palo has the greatest view of all restaurants on the ship. Seating in Palo is reserved exclusively for adults. This restaurant features scrumptious Northern Italian cuisine prepared to order and an exceptional wine cellar. This inviting, romantic restaurant is very popular and is a must do. Jackets are suggested for men.
Get Your FREE Disney Cruise Pricing Now
WDWVacationplanning.com ©2006-2009

Disney artwork, logos & properties: ©Disney | Disney Cruise Line

Ship Registry: The Bahamas