Home
Disney World Orlando Year of a Million Dreams
Planning & Pricing Services Price Quote
Disney World Resorts Deluxe Disney Vacation Club Moderate Value
Adventures by Disney Vacation Destinations 2008 Vacation Packages
Disney Cruise Itineraries Bahamas Caribbean Mediterranean Mexican Riviera Vacation
Staterooms Cat.12,11,10 Inside Cat.9,8 Oceanview Cat. 7,6,5 Balcony Cat.4 Family Suite Cat. 3,2,1 Suites
Activities Kids Teens Toddlers Adults Pirates in the Caribbean Deck Party Cruise Dining Disney Cruise Pricing Cruise Articles
Disneyland California Resorts Grand Californian Disneyland Hotel Paradise Pier
Articles Win a FREE Disney Movie DVD Site Map Who we are Client Comments Other resources
Our Disney Cruise vacation was perfect and the two grandkids were thrilled. Everything went off without a hitch and we couldn't have planned a better time of it. Thanks for all your help...Cheryl J.
Mexican Riviera Vacation

You will enjoy this amazing Mexican Riviera Vacation adventure that is filled with Disney magic. Back by popular demand and offered only for select travel dates during the summer of 2008, your family can take the Disney Cruise of a lifetime. Join in on the fun as you travel to Cabo San Lucas, Mazatlan, and Puerta Vallarta. The Disney Cruise Ship, the DisneyMagic will depart out of Port Los Angeles for these special Disney cruise itineraries.
You will enjoy the world class accommodations of the Disney Cruise Ships, along with impeccable Disney service, Disney Entertainment for children, teens and adults. With spacious larger than most cruise line cabins, your family will travel to your cruise destination in Disney style.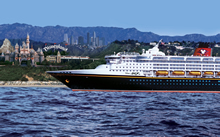 Explore the Mexican villages, the historical buildings and enjoy the beautiful beaches in Cabo San Lucas, take part in exciting shore excursions, relax on the gorgeous beaches or shop until your hearts content.
Step back in time while at Mazatlan, and relish in days gone by, here you will find gourmet Mexican food, amazing mountainside beaches, water sports, fishing, scuba diving and shopping.
In Puerta Vallarta, you can enjoy cultural exhibits, the sun kissed beaches, water sports, whale watching, fishing or shopping.
In addition, the Disney Magic is loaded with new features that are only available on the Disney Cruise Ships, an expanded fitness center and new youth activities for children 10-14 years of age.
Don't delay, these special Disney Cruise Itineraries will sell out fast. For BEST pricing, we need to reserve your cabin early. CALL NOW 1-877-DISNEYD
This special Mexican Riviera Vacation is available for the following dates:
5/25/08-6/1/08, 6/15/08-6/22/08, 7/6/08-7/13/08, 7/20/08-7/27/08, 8/3/08-8/10/08
Rates begin at $1,599 p/p (Inside cruise cabin )

Get Pricing Now on Your Mexican Riviera Vacation

---
WDWVacationplanning.com ©20006-2008

Disney artwork, logos & properties: ©Disney | Disney Cruise Line

Ship Registry: The Bahamas