Home
Disney World Orlando Planning & Pricing Disney World Vacation Price Quote
Disney World Resorts Disney Deluxe Resorts Disney Vacation Club Disney Moderate Resorts Disney Value Resorts
Theme Parks Magic Kingdom AnimalKingdom Hollywood MGM Studios Epcot
Win a FREE Disney Movie DVD Site Map About WDW Vacation Planning Client Comments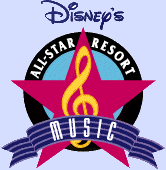 Get Your Vacation Package for Disneys All-Star Music Resort
How Suite it is! Some Pixie dust has been sprinkled and a new family experience just for you is waiting at the wonderful All Star Music Resort. When you step into the new Family Suites you will be amazed at the amount of space you have. These great Disney Suites can accommodate a family of 6 With so much room your family you will be living it up Disney style at Walt Disney World at an affordable price.
For parents who like to have their privacy, you will welcome your private sleeping area with bathroom and your very own television. With two sleeping areas, two bathrooms, fridge, microwave, two tvs and lots of beds, you don't have to worry about being cramped when staying at this marvelous family friendly Disney resort.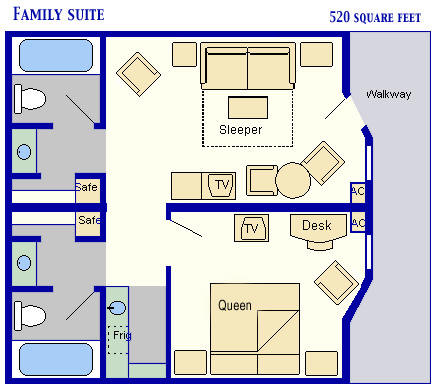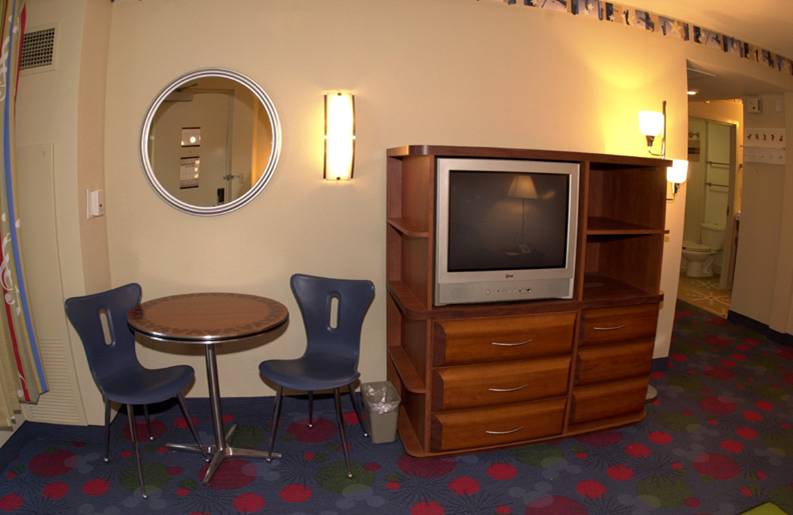 Standard Rooms at Disneys All Star Music Resort offer 2 Double beds, bathroom with separate vanity/sink area and toilet/shower, dresser, t.v., safe, table w/chairs. Standard rooms accommodate 4 per room. If traveling with more than 2 adults per room, an additional adult charge will apply. A fridge is available upon request for an additional $10 per night.
Preferred rooms at the All Star Music will keep you close to the transportation, food court and pools.
Each All Star Music Family Suite features a vanity area separate from the shower area, a separate sleeping area with master bedroom and family room. High speed internet and a kitchen that is complete with a small fridge, a microwave and coffee pot. Iron, ironing boards and hairdryers are available upon request
Food Is available at the Intermission Food Court for your convenience. Serving all day long from 6 am until midnight, you will find pasta, pizza, burgers, sandwiches, salads, ribs, chicken, baked goods, and breakfast items.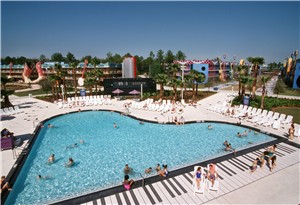 You will be jammin' in cool style when swimming at this favorite Disney resort. There are 2 pools for your convenience each shaped like a musical instrument, a guitar and a piano.

Your little ones will love the giant 3 story icons that fill this resort and they can play at the playground located near Toy Story and Fantasia. For those hands on kids, they will love the arcade. And for mom and dad, hand on to your wallets, kids will love shopping at Maestro Mickey's.

You will have unlimited use of the Transportation via bus from this great

Walt Disney World® Resort. You can catch the bus to any of the Disney parks. When you stay at this resort, you will be about 10 minutes from MGM, Epcot, and Animal Kingdom. About 15-20 to Magic Kingdom and Downtown Disney.

Check in time is 4 and check out is 11. Don't ya worry about your flights or arrival time. If arriving early guest services will hold your luggage so you can begin enjoying your resort or Disney theme parks.

Address:
Disneys All-Star Music Resort
1801 West Buena Vista Drive
Lake Buena Vista, FL 32830

Adventures by Disney Walt Disney World®Resort Disney Cruise Line® Disneyland®Resort
---
WDWVacationplanning.com©2005-2014 All Rights Reserved
Fla. Seller of Travel No. ST6476

Disney artwork, logos & properties: ©Disney | Disney Cruise Line

Ship Registry: The Bahamas