Home
Disney World Orlando Year of a Million Dreams
Planning & Pricing Services Price Quote
Disney World Resorts Deluxe Disney Vacation Club Moderate Value
Orlando Hotels Airfare Orlando Attractions Rental Car Book Hotel Now
Disney Packages Magic Your Way Magical Gatherings Groups/Conventions Vero Beach Resort
Theme Parks Magic Kingdom AnimalKingdom MGM Studios Epcot
Water Parks Blizzard Beach Typhoon Lagoon
Downtown Disney Cirque Du Soliel Marketplace Downtown Westside
Character Dining FAQ's Advanced Dining Reservations Locations
Tickets Discounted Tickets Magic your Way Park Hoppers Water Parks Orlando Attractions
Pricing Disney World All Inclusive Packages Room only Tickets only
Adventures by Disney Vacation Destinations 2008 Vacation Packages
Disney Cruise Itineraries Bahamas Caribbean Mexican Riviera Vacation
Staterooms Cat.12,11,10 Inside Cat.9,8 Oceanview Cat. 7,6,5 Balcony Cat.4 Family Suite Cat. 3,2,1 Suites
Activities Kids Teens Toddlers Adults Pirates in the Caribbean Deck Party Cruise Dining Disney Cruise Pricing Cruise Articles
Disneyland California Resorts Grand Californian Disneyland Hotel Paradise Pier
Packages Resort Magic Magical Beginnings Special offers
California Hotels Airfare California Attractions Rental Car Book Hotel Now
Hotels Good Neighbor Anaheim Hotels
Theme Parks Disneyland California Adventure Theme Park Dining Disneyland Pricing
Articles Win a FREE Disney Movie DVD Site Map Who we are Client Comments Other resources
It was a dream come true spending my 50th birthday in Disneyworld. I rate the hotel a 10! (Movies resort). Accommodations were terrific, the transportation was executed perfectly and that was the best part. What a magical experience ever. Thank you for being our personal travel agent. You're the best! Many thanks Alice M.
Disney Star Resort
Families with small children and the budget conscience will enjoy these fun filled resorts. The Pop Century, All Star Movie, Disney Music Resort and Disney resort Sports Resorts are the most affordable way to be part of the magic!
The Disney Music Resort got an EXTREME makeover! Now open! The resort features the Disney Music Resort Family Suites. The new family suites are an affordable and convenient option for larger families to stay onsite with all the perks! You will enjoy the whimsical music-themed details, along with modest rates and sleeping for six. Families can be together in the suite while enjoying separate sleeping areas with added privacy, two bathrooms, a microwave and plenty of extra room, where you can relax and recount the memories of the day before falling off to a goodnight's sleep.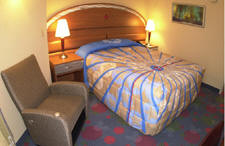 Get pricing on the Disney Music Resort Family Suite Now
More Details on All Star Music Resort
---
Enjoy a nostalgic journey through decades when staying at Disney Pop Century Resort. This resort offers 5,760 rooms spread across 20 buildings. Each building within the Resort features larger-than-life icons of pop culture fads, toys, dance crazes and catch phrases. The Classic Years buildings are divided into the decades 1950s-1990s.
Get Your Vacation Package for Disney Pop Century Resort Now
Reserve your Room Only Now Check Rates and Availability
---
The legends of your favorite Disney Movie come to life at this fun All Star Movie resort. From Herbie the lovable VW Bug, to the spotted pups of 101 Dalmatians to the playful residents of Andys Room, you will find yourself part of the movie at this fun resort .
Get Your Vacation Package for All Star Movie Now
Reserve your Room Only Now Check Rates and Availability
---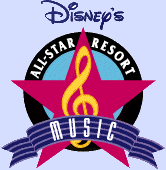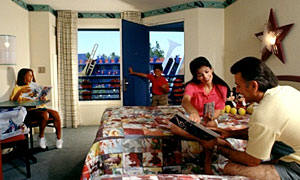 You'll be singing the praises of the All Star Music resort. She's a little bit country, but he's a lotta rock n roll. Those toes will be tappin, you'll be dancin around as you enjoy all the oversized icons of the song and dance biz at this whimsical Disney Resort that has a musical sound for all tastes. You can splash into the pools shaped like a piano or a guitar while you enjoy the fun family atmosphere.
Get Your Vacation Package for All Star Music Resort Now
More Details on All Star Music Resort
Reserve your Room Only Now Check Rates and Availability
---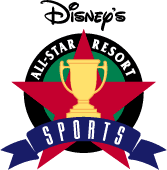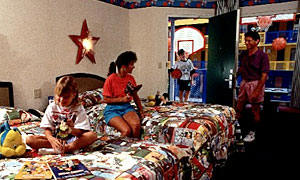 You'll be sportin a new move at the Disney Sports resort. You will enjoy the oversized icons that promote your favorite sport, baseball, football, basketball, tennis. Surf's up dude! Enjoy the splashin fun at this Disney World resort.
Get a Vacation Package for Disney Sports Resort Now
Reserve your Room Only Now
Check Rates and Availability
---
These Affordable Disney Vacation

resorts are priced from $77-$124 per room, per night.

Rooms are 260 square feet and come with 2 Double beds, table and chairs, chest of drawers, TV, voice mail, data ports on the telephones. vanity area with sink, and separate bathroom. Refrigerators are available upon request $10 per day.
Portable playpen, hair dryer, iron and ironing board are also available upon request.



Occupancy: Maximum of four persons per room. Additional charge of $10 per adult per night applies when more than 2 adults share the same room.

Suites:

Available at Disney

All Star Music Resort accommodate 6 and come with two bedrooms and two baths.

Preferred: Preferred building locations will place you closest to the Main Lobby, Pool and Food Court area.

Dining is available at the Food Courts. Breakfast, Lunch, Dinner and snacks are available. Menus include, Bagel or Croissant breakfast sandwiches, egg platters, pancakes, French Toast, pizzas, pasta with meatballs, chicken parmigana, lasagna, BBQ ribs, prime rib, turkey, assorted fruits, quesadillas, hot sandwiches, subs, cheesesteak, fish and chips and more. Pizza delivery to your room is also available. Hamburgers, Chicken. Hot Dogs, Salads, Sandwiches, nachos, shrimp cocktail, Buffalo Wings, coffees, assorted drinks, cocktails, and frozen specialties. Pepperoni and Cheese pizza is also available for room delivery.


Resort amenities include: Extra Magic Hours, In room babysitting, Room Service, Laundry facilities, Children's pool, Arcade, Playground, Luggage shuttle service, Complimentary parking and Complimentary Motor Coach Shuttle to all areas of the Walt Disney World Resort.
---
Adventures by Disney Disney Cruise Line Disneyland California Home
WDWVacationplanning.com ©2006-2008

Disney artwork, logos & properties: ©Disney | Disney Cruise Line

Ship Registry: The Bahamas