Home
Disney World Orlando Year of Celebrations Planning & Pricing Disney World Vacation Price Quote
Disney World Resorts Disney Deluxe Resorts Disney Vacation Club Disney Moderate Resorts Disney Value Resorts
Disney Packages Magic Your Way Fairytale Honeymoon Magical Gatherings Groups/Conventions
Discount Disney Admission Tickets
Discount All Inclusive Packages
Theme Parks Magic Kingdom AnimalKingdom Hollywood MGM Studios Epcot
Disney World Water Parks Blizzard Beach Typhoon Lagoon
Downtown Disney Cirque Du Soliel Disney Marketplace Downtown Westside
Disney Character Dining Advanced Character Dining Reservations
Orlando Hotels Discount Airfare Orlando Attractions Car Rental Reserve Orlando Hotel
Adventures by Disney Vacation Destinations 2011 Vacation Packages
Disney Cruise Itinerary Bahama Cruise Caribbean Cruise Mediterranean Cruise Mexican Riviera Vacation
Disney Cruise Staterooms Inside Stateroom Oceanview Stateroom Balcony Stateroom Family Cruise Suite One and Two Bedroom Suites
Disney Cruise Activities Pirates in the Caribbean Deck Party Disney Cruise Dining Disney Cruise Pricing
Disneyland Resort California Resorts Grand Californian Disneyland Hotel Paradise Pier
Disneyland Discount Packages Resort Magic Magical Beginnings
California Hotels Discount Airfare California Attractions Rental Car Book California Hotel Now
Disneyland Good Neighbor Hotels Anaheim Hotels
Disneyland Theme Park Disney California Adventure Disneyland Dining Disneyland Pricing
Vacation Articles Win a FREE Disney Movie DVD Site Map About WDW Vacation Planning Client Comments
We had a perfect vacation. It was worth the extra money to stay at the Polynesian. We could put our kids to bed and then go sit on the beach and watch the fireworks. How privileged we felt. I had no idea how big Disney World was. We cannot wait to plan our next trip. We are thinking about a Disney Cruise. Thanks for helping us with our vacation..... Patricia and Peter
The Deluxe Resorts at Walt Disney World, Disneys Grand Floridian Resort and Spa, Disney Polynesian Resort, Disneys Contemporary Resort, Disneys Beach and Yacht Club Resorts, Disneys Boardwalk Inn Resort, Disneys Wilderness Lodge Resort and Disneys Animal Kingdom Lodge Resort offer luxury and a great variety of onsite benefits.
These Walt Disney World resorts are for those who have come to expect luxury, tremendous service, top notch dining and large variety of entertainment and onsite benefits for their Disney vacation.
Disneys Grand Floridian Resort & Spa lets you step into a world of Victorian charm and stately elegance. From a stunning lobby with masterful flower arrangements to specialty dining at Citricos or the ultimate in fine dining at Victoria and Albert's, this Disney World Resort immerses you in the graciousness of a bygone era. Here, winding pathways take you to glistening beaches, clay tennis courts, and a full service spa and health club. Monorails whisk you to the Magic Kingdom and Epcot, and bring you back to a level of pampering matched by only a few hotels in all the world.
Discount rates at Grand Floridian Resort
More details on Disneys Grand Floridian Resort
---
This

Walt Disney World Resort is situated right on the monorail line, making it a quick ride to the Magic Kingdom, Epcot, Grand Floridian Resort and

Contemporary Resort. One of the two original Walt Disney World resorts, the Polynesian resort rooms are spacious and spotless. Disney unveiled their Extreme Makeover of all of the rooms at the Polynesian (as well as the Contemporary Resort) with state of the art fixtures and furnishings. The outdoor setting at the Polynesian, especially at night is truly tropical, with tiki torches burning and Hawaiin music playing in the background.

Discount

rates at Disney Polynesian Resort

More details on the Polynesian Resort
---
Discover the modern magic of a true Disney masterpiece.

The Contemporary Resort was crafted by artisans with a powerful flair for the dramatic.

Explore the stunning main tower where modern art surrounds you and sleek monorails cruise right through the hotel. Take in the awesome view of Cinderella's Castle from high atop the hotel in the California Grill restaurant. Discover the casual style and ground floor convenience of Garden Rooms looking out over the beach or of Walt Disney World monorails. The closest resort to Disney's Magic Kingdom, the Contemporary Resort immerses you in a wide eyed world of Disney fun and excitement.

Discount rates at Contemporary Resort Hotel Check Availability now

More details on Disney's Contemporary Resort
---
The Yacht and Beach Club immerses you in invigorating seaside surroundings inspired by Eastern seaboard hotels of the 1880's. It's design is distinguished by two styles which compliment each other exquisitely: a nautical world of hardwood floors and brass fittings, as well as a light, airy land of beachside splendor. This Walt Disney World Resort showcases a magnificent aquatic playground featuring a beached shipwreck with a water slide, and a stunning free–form swimming pool that's full of surprises. In addition to stylish, well appointed rooms, the pool is unlike anything you've ever seen. You'll be hard pressed to try and drag your children away from Stormalong Bay, once they discover it. At the Yacht and Beach Club you're on board for terrific seaside adventures. You're also a relaxing launch ride away from MGM Studios and a leisurely stroll from Epcot. Located within walking distance from Epcot and Disneys Boardwalk, the Disney Beach Club and Yacht Club are the perfect mix of amenities, location, and recreation. With the Boardwalk, and Epcot World Showcase within walking distance you have the best dining selections available without the need for a car or bus.

Discount rates at Disneys Yacht and Beach Club Resort Hotel

More details on Disney Beach Club resort

More details on Disney Yacht Club resort
---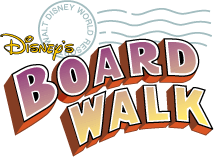 The Boardwalk Inn takes you back in time to a charming waterfront village built around an entertainment district with the fun and flavor of a Mid Atlantic boardwalk. Choose from exquisitely appointed rooms surrounded by lush gardens and sparkling waterways. Or lavish in spacious, luxurious, two story garden suites with private entrances and courtyards. Adjacent to the Resort is the fun and excitement of Disneys Boardwalk entertainment area. Visit the popular ESPN Club, Jellyrolls Dueling Pianos, the fabulous Atlantic Dance, and Big River Grille & Brewing Works, or dine at Spoodles or The Flying Fish restaurants. Boardwalk Inn is just steps away from Epcot and a quick boat ride to MGM Studios.

Discount rates at Boardwalk Inn

More details on Boardwalk Inn
---
Nestled within towering stands of pine trees,

the Wilderness Lodge is fashioned after the great lodges found in the national parks at the turn of the century. The Wilderness Lodge captures the spirit of the American Northwest even though it's just a stone's throw from Disney's Magic Kingdom. Its breathtaking, wood floored lobby is rimmed with authentic Indian totem poles. Massive teepees hang from the lobby ceiling and a three story, double sided fireplace beckons in the corner. Outside, past a winding creek and waterfall which empty into a free form swimming pool, a geyser sprays water sky high, a new kind of Old Faithful adding a magical touch to a spectacular Disney wilderness. Some rooms even have bunk beds for the kids to enjoy!

Discount rates at Wilderness Lodge

More details on Disney Wilderness Lodge
---
The Animal Kingdom Lodge has spectacular African inspired theming and unique animal programs make this resort a great value. You get the luxurious rooms and the many amenities offered at the other Disney World resorts, as well as sharing in the adventure of an African Safari. Most balconies with Savannah View overlook a picturesque savannahs where giraffe, zebra and other exotic animals roam about. You can see the animals right from your room (savannah view rooms only) or from special vantage points throughout the resort.. Hand crafted furnishings and African treasures welcome you to a world of comfort complete with all the beauty of nature in the wild and all the magic of Disney.

Discount rates at Animal Kingdom

More details on Animal Kingdom Lodge
---
Disney World Resort Rooms are 344+ square feet and come with 2 Queen Sized beds, King Bed (request availability) and

Bunk Beds( available at the Wilderness Lodge and Animal Kingdom Resorts),

table and chairs, ceiling fan, armoire, TV, voice mail, data ports on the telephones, in room safes, vanity area with two sinks and separate bathroom, coffee maker, refrigerators, iron/ironing board, portable crib, balcony/patio.

Occupancy: Maximum of five persons per room. Additional charge per night applies when more than 2 adults share the same room.

Dining

is available at a great variety of sit down restaurants, snackbars, Lounges and cafes located right on property.

Disney Resort amenities include: the Extra Magic Hours, In room babysitting, Room Service and Laundry facilities. Each deluxe resort has a Themed Water Slide pool, a Quiet pool, a Kid's pool and a Jacuzzi. For enjoyment there is an Arcade, a Playground and Children's activities. Want to stay fit during your stay, there is a Health Club, Spa services, Bike rentals and Jogging paths. For those who enjoy the water, there are Boat rentals, Beachside lounging and of course Shopping. Each resort will provide you with Luggage shuttle service, Complimentary parking, Valet parking and Room service. Special individual resort programs and Complimentary Motor Coach Shuttle to all areas of the Walt Disney World Resort are also included with your stay at one of these fine resorts.

Get Your

Free Disney Vacation Quote Now!

Home Disney World Resorts Disney Packages Tickets

WDWVacationplanning.com©2005--2011

All Rights Reserved

Disney artwork, logos properties:

©Disney | Disney Cruise Ship Registry: The Bahamas