Home
Disney World Orlando Year of a Million Dreams
Planning & Pricing Services Price Quote
Disney World Resorts Deluxe Disney Vacation Club Moderate Value
Orlando Hotels Airfare Orlando Attractions Rental Car Book Hotel Now
Disney Packages Magic Your Way Golf Getaway Honeymoon Escape Magical Gatherings Groups/Conventions Vero Beach Resort
Theme Parks Magic Kingdom AnimalKingdom MGM Studios Epcot
Water Parks Blizzard Beach Typhoon Lagoon
Downtown Disney Cirque Du Soliel Marketplace Downtown Westside
Character Dining FAQ's Advanced Dining Reservations Locations
Tickets Discounted Tickets Magic your Way Park Hoppers Water Parks Orlando Attractions
Pricing Disney World All Inclusive Packages Room only Tickets only
Adventures by Disney Vacation Destinations 2008 Vacation Packages
Disney Cruise Itineraries Bahamas Caribbean Mexican Riviera Vacation
Staterooms Cat.12,11,10 Inside Cat.9,8 Oceanview Cat. 7,6,5 Balcony Cat.4 Family Suite Cat. 3,2,1 Suites
Activities Kids Teens Toddlers Adults Pirates in the Caribbean Deck Party Cruise Dining Disney Cruise Pricing Cruise Articles
Disneyland California Resorts Grand Californian Disneyland Hotel Paradise Pier
Packages Resort Magic Magical Beginnings Special offers
California Hotels Airfare California Attractions Rental Car Book Hotel Now
Hotels Good Neighbor Anaheim Hotels
Theme Parks Disneyland California Adventure Theme Park Dining Disneyland Pricing
Articles Win a FREE Disney Movie DVD Site Map Who we are Client Comments Other resources
When you want your vacation experience to be more than just a day at the park, these spacious and delightful Disney Vacation Club properties will make your family or group vacation truly a magical one. Situated in the Walt Disney World Complex, Fort Wilderness , Villas at the Wilderness Lodge, Beach, Boardwalk Villas, Saratoga Springs, and Old Key West resorts offer the amenities that make you feel at home in the middle of the magic. With fully equipped kitchens, bedrooms, spacious baths, these properties come with washer and dryer right inside your own Disney Vacation Club private villa. You won't be lacking a thing when staying at one of these Vacation Club properties.
Reserve your Room at the Beach Club Villas Now Check Rates and Availability
Get Your Vacation Package for Disneys Beach Club Villas now
You will enjoy staying in these seaside homes modeled after the great beach resorts of the early century. The Disney Beach Club and Boardwalk Villas offer you a comfortable atmosphere, fun activities onsite and within walking distance to Epcot and the Boardwalk area. This Disney Vacation Club property shares all facilities with the Disney Yacht Club and Disney Beach Club Resorts including its fantastic pool. These Cape Cod style villas have white latticework trim, garden or pool view each, private balcony or patio.
You will enjoy many amenities when staying at these beachy themed resorts. You will be able to take advantage of pizza delivery, have some fun on the water with rental boats, enjoy a large aquatic playground, savor the time in a jacuzzi, spend some time in the heated quiet pools. You can always relax beach side on the sand beaches, enjoy some sporting activities such as volleyball, croquet, tennis and of course go jogging or walking along the nice winding paths.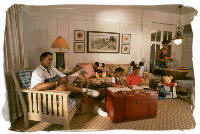 Studio Villa – Accommodates 4 people with 1 queen bed and a double sleeper sofa and come completely furnished with a kitchenette, microwave oven, under-counter refrigerator, wet bar, coffee maker, ceiling fan, TV hair dryer, private balcony/porch.
One Bedroom Villa - Accommodates 4 people with a king bed, whirlpool tub in master bedroom and a queen sleeper sofa in living room, kitchen, washer/dryer, ceiling fans, TV in each room and VCR in the living room, hair dryer, and porch/balcony.
Two Bedroom Villa - Accommodates up to 8 people with king bed in master with whirlpool tub, 1 queen and sleeper sofa in second bedroom and private bath, double sleeper sofa in living room, kitchen, washer/dryer, ceiling fans, TV in each room VCR in the living room, hair dryer, porch/balcony.
Reserve your Room Only at the Boardwalk Villas Now Check Rates and Availability
Get Your Vacation Package for Disneys Boardwalk Villas now

You will love staying at this lake side resort across from Downtown Disney. Capturing the feel from the family resorts of the past, this fun filled Disney Vacation Club property has amazing architecture, colorful buildings, rolling hills, fragrant gardens, promenades and gurgling springs where you can relax with your family and reconnect.

Studio Villa – Accommodates 4 people with 1 queen bed and a double sleeper sofa and come completely furnished with a kitchenette, microwave oven, under-counter refrigerator, wet bar, coffee maker, ceiling fan, TV hair dryer, private balcony/porch.

One Bedroom Villa - Accommodates 4 people with a king bed, whirlpool tub in master bedroom and a queen sleeper sofa in living room, kitchen, washer/dryer, ceiling fans, TV in each room and VCR in the living room, hair dryer, and porch/balcony.

Two Bedroom Villa - Accommodates up to 8 people with king bed in master with whirlpool tub, 1 queen and sleeper sofa in second bedroom and private bath, double sleeper sofa in living room, kitchen, washer/dryer, ceiling fans, TV in each room VCR in the living room, hair dryer, porch/balcony.

Three Bedroom Grand Villa- Accommodates up to 12 people. This three-bedroom/four-bath Grand Villa features all the amenities of a studio room, plus a fully equipped kitchen with dining area, washer/dryer, ceiling fans, TV in each room with DVD in the living room. Master suite features a king-size bed, a whirlpool tub and hair dryer. Second level features two additional bedrooms with a private bath with hair dryer. Queen-size sleeper sofa in the living room and you can enjoy the tropical Florida ambiance from your porch/balcony.

Discount

rates at the Disney Saratoga Springs Villas
You will feel as though you are spending your vacation in Key West when you stay at this Disney Vacation Club property. Disneys Old Key West resort offers you lush tropical landscapes, pastel colored villas that provide you with all the amenities of home. Situated right near the lush golf courses, and among the statuesque palm trees, you will find your own island of paradise. True to Key West décor, you will find decorative touches all around this wonderful resort.

You can enjoy a restful afternoon lounging in the lobby which is graced with bookshelves, comfortable chairs and a fireplace for your enjoyment.

Disneys Old Key West offers you pools, health club, fishing, arcade, playground, watercraft & bike rentals, tennis, walking/jogging trails, and a Community Hall where you can gather with other vacationeers for loads of fun!

Studio Villa – Accommodates 4 people with 1 queen bed and a double sleeper sofa and come completely furnished with a kitchenette, microwave oven, under-counter refrigerator, wet bar, coffee maker, ceiling fan, TV hair dryer, private balcony/porch.

One Bedroom Villa - Accommodates 4 people with a king bed, whirlpool tub in master bedroom and a queen sleeper sofa in living room, kitchen, washer/dryer, ceiling fans, TV in each room and VCR in the living room, hair dryer, and porch/balcony.

Two Bedroom Villa - Accommodates up to 8 people with king bed in master with whirlpool tub, 1 queen and sleeper sofa in second bedroom and private bath, double sleeper sofa in living room, kitchen, washer/dryer, ceiling fans, TV in each room VCR in the living room, hair dryer, porch/balcony.

Three Bedroom Grand Villa- Accommodates up to 12 people. This three-bedroom/four-bath Grand Villa features all the amenities of a studio room, plus a fully equipped kitchen with dining area, washer/dryer, ceiling fans, TV in each room with DVD in the living room. Master suite features a king-size bed, a whirlpool tub and hair dryer. Second level features two additional bedrooms with a private bath with hair dryer. Queen-size sleeper sofa in the living room and you can enjoy the tropical Florida ambiance from your porch/balcony.

Discount

rates at Disneys Old Key West Resort

Get Your FREE Disney World Vacation Quote now

---

WDWVacationplanning.com ©2006-2009

Disney artwork, logos & properties: ©Disney | Disney Cruise Line

Ship Registry: The Bahamas