You step into an African Safari at this amazing one of kind Disney Deluxe resort. The Animal Kingdom Lodge is designed to resemble an authentic African lodge. With small huts, elevated viewing areas, authentic African woodwork and decor, you will be in awe. At this resort, you will experience a calm, serenity that allows you step into a world you have never been to. You will enjoy hearing the sounds of nature as the water flows through this grand resort. Disneys Animal Kingdom Lodge offers many viewing areas where you can gaze out at the variety of wild life that is roaming free in the Savannahs. Spectacular sunrises and sunsets offer you the feeling as though you are truly on a safari. For guests who stay in a Savannah view room, you will experience up close and personal the animals and birds as they graze and roam free in their natural habitat.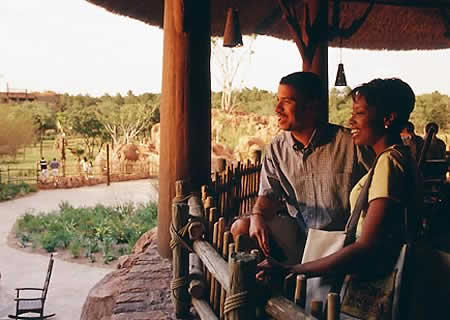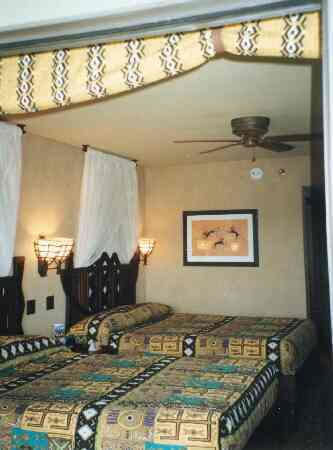 At the Disney Animal Kingdom resort you will enjoy the following amenities, with a standard rooms which offer a view of the parking areas are are on floors 1-4. These rooms will accommodate 4 people with 2 Queen sized beds. If you have 5 persons traveling, this resort offers Deluxe Rooms(381 sq. ft) which are located on the 5th & 6th floors and they come furnished with 2 Queens and a Daybed. For those who prefer, you can request a room with 1 Queen bed and a set of Bunk Beds. Each room is fully furnished with the following; two sinks in the vanity area, separate shower/toilet armoire, refrigerator, table with chairs, closet, night stand, TV, telephone, ceiling fan, iron/ironing board and voicemail. Each room is uniquely designed with furniture hand carved by African artisans, rich tapestries and vibrant colors complete the decor. Most rooms will offer a Balcony and Savannah view rooms will overlook one of the three savannahs. For guests who have more than 2 adults sharing a room, an additional nightly charge of $25 applies.
The Animal Kingdom Lodge offers concierge service rooms (5th & 6th floors) and amenities which include nightly turndown, curbside check in, deluxe cotton robes, continental breakfast, evening reception, mid day snacks. As a concierge guest you also are able to participate in the sunrise safari breakfast for an additional charge.
Suites are available at this resort. Each suite comes fully furnished with all the standard room amenities in addition, many have curved thatch covered balconies, some with a jacuzzi. Junior suites offer a separate bedroom with a small kitchen area.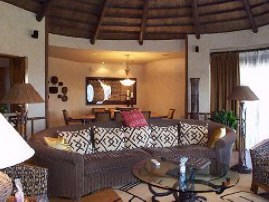 Dining at the Animal Kingdom Lodge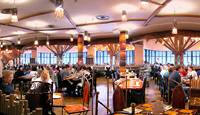 Jiko serves New African cuisine prepared from the culture and flavors of Europe, India and Asia. Dinner is served nightly from 5:30-10 p.m. Business Casual dress is required for men and women. Some of the unique dinners you will find on the menu are horseradish-crusted salmon, duck,grilled beef tenderloin and vegetable cake.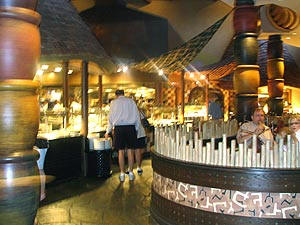 Boma is where expert chefs create salads and roasted meats inside an open kitchen for all to see. Breads and desserts are hand prepared in the bakery under a thatched roof. A kids' corner offers children's favorites and an opportunity to have fun with the chefs. Serving Breakfast from 7-11 a.m. and dinner from 5:30-10 p.m. This family buffet is the best in African hospitality.
Mara offers all day dining with a variety of delectable treats such as breakfast sandwiches, salads, burgers, desserts and beverages.
Room Service is available all day until midnight.
Victoria Falls Mezzanine Lounge is open from 4-midnight and offers specialty coffees, wines and international beers.
Cape Town Lounge and Wine Bar will let you experience the robust wines of South Africa. Open daily until midnight.
Uzima Springs is a pool side bar open daily for drinks and snacks.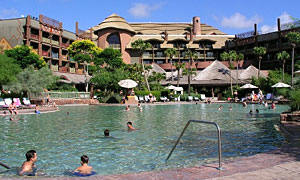 Uzima is this resort's theme pool complete with water slide. There also is a kid's wading pool and 2 spas.
The playground is located near the pool and Simba's Clubhouse is a supervised childcare club for kids ages 4-12.
Pumbaa's Arcade is adjacent to the pool and offers high tech video games.
Zahanati Fitness Center has a full line of fitness equipment and there are paths that wind around this resort for walking or jogging.
Zawadi Marketplace is the place to shop for your favorite African treasures.
Bus transportation is available to all theme parks from the Animal Kingdom Lodge.
2901 Osceola Parkway
Bay Lake, FL 32830
Adventures by Disney Home Disney Cruise Line Disneyland California
---
WDWVacationplanning.com ©2006-2014

Disney artwork, logos & properties: ©Disney | Disney Cruise Line

Ship Registry: The Bahamas