Home
Disney World Orlando Year of a Million Dreams
Planning & Pricing Services Price Quote
Disney World Resorts Deluxe Disney Vacation Club Moderate Value
Orlando Hotels Airfare Orlando Attractions Rental Car Book Hotel Now
Tickets Discounted Tickets Magic your Way Park Hoppers Water Parks Orlando Attractions
Pricing Disney World All Inclusive Packages Room only Tickets only
Adventures by Disney Vacation Destinations 2008 Vacation Packages
Disney Cruise Itineraries Staterooms
Activities Disney Cruise Pricing Cruise Articles
Disneyland California Resorts Packages California Hotels
Theme Parks Disneyland Pricing
Articles Win a FREE Disney Movie DVD Site Map Who we are Client Comments Other resources
OUR FAMILY HAD A GREAT TIME! Thanks for all your help. Mrs. H.
Let yourself get swept up in the excitement of a sundrenched tropical paradise at Blizzard Beach or Typhoon Lagoon. Enjoy an array of shopping and dining at Downtown Disney, or the magical Cirque Du Soliel show.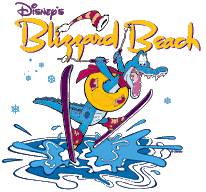 Screamin Good Time to be had at Blizzard Beach! The first thing you notice is the themed music playing as you enter the vast expanse of this snowy peaked water park. The ski lift that takes riders up to the sky high 'Summit Plummet' is moving and is already taking the brave enthusiast up to its peak.. If your lacking your adventurous mood, you can relax and cruise the park on the lazy river. Its the longest lazy river and the "cold" atmosphere will keep you chillin' even on the hottest of days.
Picture a 120-foot snow-capped mountain in the midst of a Florida-style ski resort. Sound like a cool idea? Blizzard Beach Water Park is the largest water park at Walt Disney World, featuring 22 water slides and icy bobsled runs that stay comfortably warm and thrillingly fast, regardless of the season.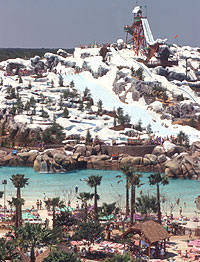 Beneath Mount Gushmore waits a winter wonderland of water, fun and sun. Challenge your courage as an explorer and climb 120 feet to the peak of Summit Plummet where you'll begin the 55 mph plunge down one of the fastest and tallest water slides in the United States. You can also race side-by-side on the Downhill Double Dipper speed slides. Special areas for teens and young children, as well as a one-acre wave pool. You will love Slush Gusher, Teamboat Springs, Toboggan Racer, Snow Stormers, Runoff Rapids, Melt-Away Bay, Cross Country Creek, Ski Patrol and Camp Tike's.Watch out for exhilarating thrills and chills ahead... cause this water adventure is awash with white water raft rides, flumes, floats and a bucket full of fun!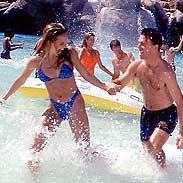 Get Your FREE Disney Vacation Quote Now
Buy Blizzard Beach Tickets Now
Twisting tides, roaring rapids, wonderful waterways and relaxing rivers are waiting at tropical Typhoon Lagoon Water Park. It's your chance to escape to the wettest, wackiest attractions in paradise.
Typhoon Lagoon Surf Pool, one of the world's largest, is only the start of this exotic water adventure. Snorkel through mysteries of the deep with live, tropical fish and real sharks in Shark Reef. Tube along canals, slip and slide through winding caves, or relax under the shady palms as the kids splash in the Ketchakiddie Children's Play Area.
There is something for everyone. Disney does a great job of hiding all the equipment in tropical foliage so you believe you are a "castaway" stranded on your own island. You will have loads of fun!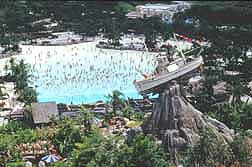 Get Your FREE Disney Vacation Quote Now
Buy Typhoon Lagoon Tickets Now
Adventures by Disney Vacation Destinations Disney Cruise Line 2Disneyland California Resorts 7
---
WDWVacationplanning.com ©2006-2009

Disney artwork, logos & properties: ©Disney | Disney Cruise Line

Ship Registry: The Bahamas