Home
Disney World Orlando Planning & Pricing Disney World Vacation Price Quote
Disney World Resorts Disney Deluxe Resorts Disney Vacation Club Disney Moderate Resorts Disney Value Resorts
Disney Packages Magic Your Way Fairytale Honeymoon Groups/Conventions
Theme Parks Magic Kingdom AnimalKingdom Hollywood MGM Studios Epcot
Disney World Water Parks Blizzard Beach Typhoon Lagoon
Site Map About WDW Vacation Planning Client Comments
Oasis, Discovery Island, Raffiki's Planet Watch, Camp Minnie–Mickey, Africa, Asia, and Dinoland U.S.A.
Dinoland USA
You will know when you pass through the entrance of this great land as you go under the 50–foot skeleton of a brachiosaurus.

Attractions:
Dinosaur

- takes guests back to the age at the very seconds before the asteroid that instantly ended the Cretaceous period hit. It is your mission to locate the last living iguanodon and bring him back to the present. (minimum height of 48")Fastpass available.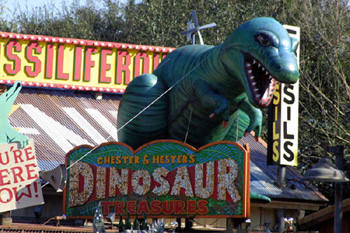 The Boneyard - is perfect for younger guests. They are given an opportunity to slide, crawl through a maze built of dinosaur remains, and even dig up the bones of a wooly mammoth in a dig site.

Cretaceous Trail

-

is a short and simple walking path filled with living plants and some animals that have survived from the Cretaceous period.

Dinosaur Jubilee

-

is home to massive casts of dinosaur skeletons and other ancient creatures.

Tarzan Rocks

-

A stage show featuring songs, dances, and characters based on the Disney–animated feature.

Fossil Preparation Lab

- Witness the preparation of the largest and most complete Tyrannosaurus Rex fossil ever found. Here you'll see paleontologists at work as they painstakingly piece together "Sue", the world's most famous T. Rex.

Rafiki's Planet Watch, has more characters that like to make appearances.

Here you can meet Terk (from Tarzan), Pocahontas, Meeko and Rafiki. Check your daily Times Guide for times and locations of character Meet and Greets.
---
WDWVacationplanning.com ©2005-2013

Disney artwork, logos & properties: ©Disney | Disney Cruise

Ship Registry: The Bahamas