Home
Disney World Orlando Planning & Pricing Disney World Vacation Price Quote
Disney World Resorts Disney Deluxe Resorts Disney Vacation Club Disney Moderate Resorts Disney Value Resorts
Disney Packages Magic Your Way Fairytale Honeymoon Groups/Conventions
Discount Disney Admission Tickets
Discount All Inclusive Packages
Theme Parks Magic Kingdom AnimalKingdom Hollywood MGM Studios Epcot
Disney World Water Parks Blizzard Beach Typhoon Lagoon
Downtown Disney Cirque Du Soliel Disney Marketplace Downtown Westside
Disney Character Dining Advanced Character Dining Reservations
Win a FREE Disney Movie DVD Site Map About WDW Vacation Planning Client Comments
, Discovery Island, Raffiki's Planet Watch, Camp Minnie–Mickey, Africa, Asia, and Dinoland U.S.A
.
Mee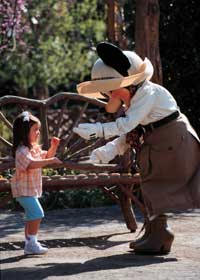 t your favorite characters, get your autograph and have your pictures taken. Set deep in a dense forest, you will find the characters by following one of four short paths. Each path leads to a hut, occupied by famous Disney characters like Mickey, Minnie, Winnie the Pooh, Tigger, Timon, and Rafiki.

Different characters make appearances at these huts throughout the day.

Restaurantosaurus


Join Donald and friends for a sumptuous breakfastsaurus buffet. Or dig for dinosaurs for a scrumptous digilicous dinner.
Rainforest Cafe Go wild in a family restaurant with cascading waterfalls, erupting volcanoes, animated jungle creatures, thunder, lightning and outstanding food.


Flame Tree Barbeque

Soak in the sights and sounds of a tropical jungle as you dine on flavorful smoked barbeque ribs and chicken and pork sandwiches in one of the serene, colorful and exotic outdoor dining pavilions overlooking Discovery River.

Kusafiri Coffee Shop

Satisfy your sweet tooth as you make your way through the edge of downtown Harambe, feasting on gourmet coffees, assorted muffins, cookies, pastries and cakes.

Pizzafari

Round out your day at this restaurant featuring individual pizzas fresh from the oven and scrumptious sandwiches.

Tusker House Restaurant

Take a break and stop into this refreshing oasis for a delicious meal.
---

WDWVacationplanning.com ©2006-2014

Disney artwork, logos & properties: ©Disney | Disney Cruise Line

Ship Registry: The Bahamas