Home
Disney World Orlando Planning & Pricing Disney World Vacation Price Quote
Disney World Resorts Disney Deluxe Resorts Disney Vacation Club Disney Moderate Resorts Disney Value Resorts
Disney Packages Magic Your Way Fairytale Honeymoon Groups/Conventions
Discount Disney Admission Tickets
Discount All Inclusive Packages
Theme Parks Magic Kingdom AnimalKingdom Hollywood MGM Studios Epcot
Disney World Water Parks Blizzard Beach Typhoon Lagoon
Downtown Disney Cirque Du Soliel Disney Marketplace Downtown Westside
Disney Character Dining Advanced Character Dining Reservations
Win a FREE Disney Movie DVD Site Map About WDW Vacation Planning Client Comments
We had such a wonderful time! Everything was absolutely perfect!
Thank you so much for all of your help! I would recommend you to anyone! We really couldn't have had a better time!!! ...Veronica

Choose your Animal Kingdom Land Africa Asia Camp Minnie Mickey DinoLand U.S.A.® Area Discovery Island®Area Oasis,Raffiki's Planet Watch® Land
Africa This area of Disney's Animal Kingdom®Theme Park is larger than all of Magic Kingdom ® Park . As you enter Africa you will pass through a village name Harambe which is based on a real African coastal town. With authentic African architecture, landscaping, and merchandise you will feel as though you have stepped into an African Village. Disney went to great lengths and many trips to Africa to see to it your experience was the real deal. This is as close you will get to a real safari.
Animal Kingdom Attractions: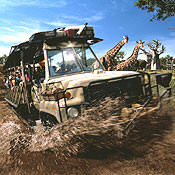 Kilimanjaro Safaris ® Expedition- Will have you experience an authentic African safari. As you get onboard the unique open vehicle in Disneys Animal Kingdom, you will be led on an amazing adventure. You will roam through the savannahs and catch live glimpses of authentic safari animals. Hold tight, as unexpected animal poachers are hiding in your midst.
Pangani Forest Exploration Trail ® What a great way to explore the forest in search of gorillas. As you walk across this scenic trail you will enjoy the natural surroundings, see exotic birds, visit with the hippos and finally get up close and personal with the a group of gorillas.
Mickeys Jammin' Jungle Parade- The party is startin' in this afternoon high energy fun filled parade at Disneys Animal Kingdom. As you enjoy being part of the Animal Kingdom, you will have a great time as Mickey, Minnie Goofy, Rafiki and other Disney cast members come on by making you feel the vibe as they entertain you with their musical abilities.
Expedition Everest- Legend of the Forbidden Mountain
®
- Watch out! In this high speed, treacherous ride. You will find yourself taking off to the highest mountain top (Everest). Going up you will find hidden surprises and meet a beast who takes protecting his mountain home seriously. When you think it is over, think again, what goes up must always come down. (min. height for this ride 44" and Fastpass ® Service is available) - Will entertain you and teach you. You will see first hand up close and personal hawks, macaws, crane and bald eagle. Discover how these amazing birds live and act when you watch the trainer handling these precious animals of nature. ® Attraction- You will walk through a tropical paradise and view the amazing waterfalls, lush greenery and watch out, there may be tigers out there. ® Attraction - Will have you cooling off, but not before you race through the Kali River past ancient relics, pass through the hazy forest, see the loggers shoreside and find yourself coming close to smacking into the burning logs that are before you. This twisty turny ride will provide the thrills you are seeking and watch out, you may get real wet. (min. height of 42" is required for this ride)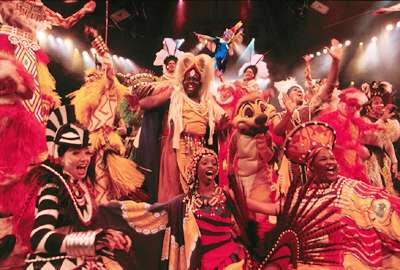 Festival of the Lion King- This amazing one of a kind show will have you singing and moving in your seats. The characters of the Lion King complete with stunning costumes come to life in this amazing live performance filled with dances, songs and even acrobatics.

Pocahontas and Her Forest Friends

- A live show where Pocahontas goes on a search to find the one creature who is the protector.

Get Your Disney World Vacation Pricing Now
Adventures by Disney Disney Cruise Line Disneyland California
---
WDWVacationplanning.com ©2006-2014

Disney artwork, logos & properties: ©Disney | Disney Cruise Line
Ship Registry: The Bahamas