This unbelievable replica of New York City is host to lots of fun surprises.
Attractions:
Honey, I Shrunk the Kids Movie Set - This interactive kidsí playground sets the scene with larger than life props from the hit movie. Scale the Everest of ant hills, crawl inside a discarded LEGO brick, and dodge the spritz from the biggest leaky garden hose youíve ever seen.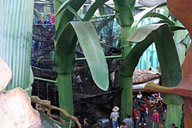 Jim Henson's Muppet Vision 3D - Itís time to meet the Muppets! Join Kermit, Miss Piggy, Fozzie Bear, and all your favorites for a wacky 3D performance. Featuring sensational special effects and fun surprises.
Disney's Toy story Pizza Planet Arcade

Andy's favorite hang-out from Toy Story is recreated complete with an intergalactic assortment of video and arcade games

MGM Theme Park Tickets Now Get a Disney Vacation Package Now
---
WDWVacationplanning.com ©2006-2008

Disney artwork, logos & properties: ©Disney | Disney Cruise Line

Ship Registry: The Bahamas