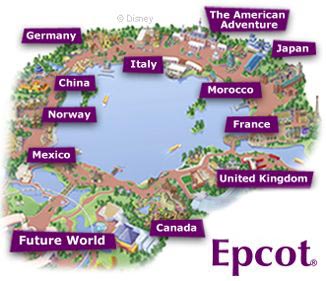 The World Showcase, is an unique theme park that lets you experience world wide cultures, food, music and entertainment from countries all over the world. Each country is inspired for its namesake and has buildings that let you experience the architecture of far off places. You will feel as though you have left the U.S.A. as you travel around the World Showcase and you can also feast on worldwide cuisines.

The land of Mexico will have you tapping your toes when the Mariachi bands play. Here you can enjoy the Mexican marketplace and even take a boat ride to learn about Mexican history. Feast at the San Angels Inn on true Mexican cuisine.

In Norway you will take a step back in time as you enjoy the 10th century village. Take an adventurous boat ride as you travel the North Sea. But watch out, for the trolls and polar bears. In Norway you can enjoy the special Princess Storybook character dining experience.

Unique circle vision film presentation located in the land of China, you can experience seven major cities of China and see the sights and sounds that make this truly a beautiful land.

In Germany you will be transported to German towns and enjoy fabulous German foods.

A trip through Italy savors the romance and beauty of Venice. Enjoy fabulous Italian cuisine and Italian history as you discover this one of a kind place.

The American Adventure will allow you to remember and experience America's important moments. With animated characters highlighting important events, you will feel as though you have stepped back in time.

France is known for its outstanding fresh baked goods and fabulous desserts. Here you not only will enjoy delectable delights, but also beautiful French gardens, French music and quaint shops.

Japan provides you with outdoor entertainment, and amazing gardens. Of course, here you can feast on true to Asia cuisine.

In the land of Morocco

you will enjoy the talent and craftsmanship of Moroccan artisans as you stroll through this delightful country.

The United Kingdom is known for its great pubs and cobbled streets. Take a look back at what makes this kingdom so magical as you enjoy the lush gardens. And for a treat head over to Rose and Crown for some authentic British grub.

Millennium Village lets you experience the rain forest, mysterious carvings, and here you can enjoy musical and dance groups.

What magnificent vistas you will experience while in Canada. Take a scenic tour of the great land of Canada in circle vision, its like being there in person as you tour the history and culture of this beautiful land.

Get Your

Disney World Vacation Pricing Now and get on your way to Epcot!
---
WDWVacationplanning.com ©2006-2008

Disney artwork, logos & properties: ©Disney | Disney Cruise Line
Ship Registry: The Bahamas