Home
Disney World Orlando Planning & Pricing Services Price Quote
Disney World Resorts Deluxe Disney Vacation Club Moderate Value
Theme Parks Magic Kingdom AnimalKingdom MGM Studios Epcot
Downtown Disney Cirque Du Soliel Marketplace Downtown Westside
Character Dining FAQ's Advanced Dining Reservations Locations
Tickets Discounted Tickets Magic your Way Park Hoppers Water Parks Orlando Attractions
Pricing Disney World All Inclusive Packages Room only Tickets only
Adventures by Disney Vacation Destinations 2007 Vacation Packages
Disney Cruise Itineraries Bahamas Caribbean Mediterranean Mexican Riviera Vacation Disney Cruise Pricing
Disneyland California Resorts Grand Californian Disneyland Hotel Paradise Pier
Packages Resort Magic Magical Beginnings Special offers
Hotels Good Neighbor Anaheim Hotels
Theme Parks Disneyland California Adventure Theme Park Dining Disneyland Pricing
Articles Win a FREE Disney Movie DVD Site Map Who we are Client Comments Other resources
Reserve Your Room Only Now Check Rates and Availability
Step into the islands of the Caribbean. At this wonderful Disney moderate resort you will feel as though you have headed to Jamaica and Aruba. Caribbean island music fills the air, the lush tropical landscaping and fun filled water slide themed pool will have your stay at this resort be memorable.
You will be sleeping in comfort in your moderate accommodations at Walt Disney World. Your room will provide you with 340 square feet of living space complete with 2-double beds, night stand, TV, armoire, luggage rack, small table with 2 chairs, wall safe, and refrigerator. Iron, ironing boards, cribs, coffee maker and hairdryers are available upon request from housekeeping. In the bathroom you will find modern conveniences such as a pedestal sink with separate vanity, tub and toilet areas. Disneys Caribbean Beach Resort accommodates 4 per room. If more than 2 adults will be sharing the same room, an extra adult charge of $25 applies.


Restaurants:

Shutters serves dinner daily from 5-10. Menu Includes: American cuisine inspired by the flavors of the Caribbean. Prime rib, snapper, steaks, & chicken.

Banana Cabana is a pool bar open from 12-midnight and serves
Broiled chicken, pizza, baked goods, ice cream desserts, fresh fruit, hamburgers, deli sandwiches, salads, breakfast items and pasta.
Old Port Royale Food Court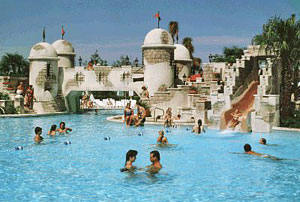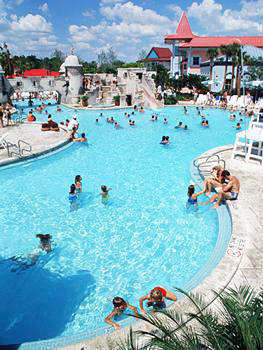 You will find plenty to do while staying at the Caribbean Beach resort, each of the seven themed village area has it's own heated pool or you can enjoy the main featured pool complete with water slides and spas. Prefer to sunbathe only, you will be able to sink your toes into the white sandy beach alongside the lake.

Your little ones will enjoy the three children's playground which are located in Parrot Cay, Martinique and Trinidad South or have fun at the arcade.
Enjoy the great outdoors taking a walk or jog along the winding paths that go around this resort or rent a bike or boat for ultimate outdoor recreation.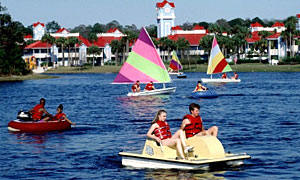 Shopping is available at the Calypso Trading Post or Calypso Straw Market. Transportation is available to all theme parks, water parks, and Downtown Disney by bus. Estimated travel times are as follows: MGM Studios Epcot . Magic Kingdom , Animal Kingdom Downtown Disney

Address:
Disneys Caribbean Beach Resort
900 Cayman Way
Lake Buena Vista, FL 32830-1000
Disneys Caribbean Beach Vacation quote
---
WDWVacationplanning.com ©2006-2009

Disney artwork, logos & properties: ©Disney | Disney Cruise Line
Ship Registry: The Bahamas