Home
Disney World Orlando Year of a Million Dreams
Planning & Pricing Services Price Quote
Disney World Resorts Deluxe Disney Vacation Club Moderate Value
Orlando Hotels Airfare Orlando Attractions Rental Car Book Hotel Now
Disney Packages Magic Your Way Golf Getaway Honeymoon Escape Magical Gatherings Groups/Conventions Vero Beach Resort
Theme Parks Magic Kingdom AnimalKingdom MGM Studios Epcot
Water Parks Blizzard Beach Typhoon Lagoon
Downtown Disney Cirque Du Soliel Marketplace Downtown Westside
Character Dining FAQ's Advanced Dining Reservations Locations
Tickets Discounted Tickets Magic your Way Park Hoppers Water Parks Orlando Attractions
Pricing Disney World All Inclusive Packages Room only Tickets only
Adventures by Disney Vacation Destinations 2008 Vacation Packages
Staterooms Cat.12,11,10 Inside Cat.9,8 Oceanview Cat. 7,6,5 Balcony Cat.4 Family Suite Cat. 3,2,1 Suites
Activities Kids Teens Toddlers Adults Pirates in the Caribbean Deck Party Cruise Dining Disney Cruise Pricing Cruise Articles
Disneyland California Resorts Grand Californian Disneyland Hotel Paradise Pier
Packages Theme Parks Disneyland Pricing
Articles Win a FREE Disney Movie DVD Site Map Who we are Client Comments Other resources
Adventureland in Magic Kingdom Theme Park

An exotic land where adventures and fun abound. Take a dream flight on the

The Magic Carpets of Aladdin

. Here you will soar through Agrabah and if you are steady with the controls you may even avoid the spitting camels.

Go on a wild voyage on one of the Disney classics, Pirates of the Caribbean. You go through caverns and fierce sea battles all with the help of the Pirates of the Caribbean.

For the explorer in all of us, there is the Jungle Cruise which sails the rivers of four different continents where you see exotic animals, ancient ruins and early explorers. Over at the Swiss Family Treehouse, you will relive the popular family favorite and see where each branch takes you.

Adventure and excitement lie ahead as you meet pirates, travel through the dense jungle, climb a treehouse and meet talking birds! You may even get the chance to listen to the soothing sounds of steel drums in Caribbean Plaza!

Attractions

Jungle Cruise- Travel on the rivers of four different continents. See exotic animals, zany explorers and ancient ruins as your skipper leads you deep into the jungle. Be prepared for surprises along the way, your skipper's sure to regale you with humorous tales of danger.


Yo ho, yo ho! A pirate's life for me! Take a wild voyage through secret caverns and fierce sea battles as you join up with the rowdiest crew that ever sacked the Spanish Main. It's a boat ride through classic Disney adventures populated with almost countless Audio–Animatronics figures.

Swiss Family Robinson Treehouse- There hasn't been a treehouse this amazing since the movie. Come see where the winding branches take you in this one–of–a–kind tree.

The Enchanted Tikki Room- Join Iago and Zazu on their latest adventure as managers of the Enchanted Tiki Room. Don't worry, you'll still have the chance to sing along with the original Tiki Room song as well as new popular favorites.

The Magic Carpets Of Aladdin- Take a flight of fancy aboard your very own magic carpet. Inspired by the Disney animated classic, "Aladdin," this whimsical spin above Adventureland® Area is filled with ups and downs as you control both the pitch and height of the flight. It's better than getting three wishes!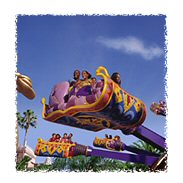 Aloha Isle

- Enjoy the famous Dole Whip

El Pirata y el Perico Restaurante

- Serving up tacos, salads, nachos and hot dogs.

The Oasis

- This snack spot is tucked away neat the Jungle Cruise and offers travelers a quick bite.

Sunshine Tree Terrace

- will quench your thirst with citrus specialties, frozen yogurt treats, cappuccino and espresso.

Shopping

in Adventureland

is the perfect place to buy imported items from around the world. For Middle Eastern clothing you are sure to find something at the Agrabah Bazaar. At the House of Treasure you will find pirate ware, costumes and island clothing. Island Supply will offer the surfer in you the opportunity for some tropical wear. Be sure to check out La Princessa di Crystal to see glass blowing and glass cutting.

FREE Disney Vacation Price Quote
---
WDWVacationplanning.com ©2006-2008

Disney artwork, logos & properties: ©Disney | Disney Cruise Line

Ship Registry: The Bahamas