Home
Disney World Orlando Year of a Million Dreams
Planning & Pricing Services Price Quote
Disney World Resorts Deluxe Disney Vacation Club Moderate Value
Orlando Hotels Airfare Orlando Attractions Rental Car Book Hotel Now
Theme Parks Magic Kingdom AnimalKingdom MGM Studios Epcot
Water Parks Blizzard Beach Typhoon Lagoon
Downtown Disney Cirque Du Soliel Marketplace Downtown Westside
Character Dining FAQ's Advanced Dining Reservations Locations
Tickets Discounted Tickets Magic your Way Park Hoppers Water Parks Orlando Attractions
Pricing Disney World All Inclusive Packages Room only Tickets only
Adventures by Disney Vacation Destinations 2008 Vacation Packages
Disney Cruise Itineraries Bahamas Caribbean Mexican Riviera Vacation
Staterooms Activities Disney Cruise Pricing
Disneyland California Resorts Grand Californian Disneyland Hotel Paradise Pier
Packages Theme Parks Disneyland Pricing
Articles Site Map Who we are Client Comments
Magic Kingdom Theme Park Frontierland

You will love the wild and wooly Old West town just on the outskirts of what some folks call civilization. Here you will discover a critter-ful world and enjoy singing along to "Z

ip-A-Dee-Doo-Dah

" all while traveling through a Briar Patch before screaming your way down a five story drop on Splash mountain . Zip in and out of the deserted gold mine aboard this run away train Big Thunder Mountain Railroad, which will take you on a curvy, swervy roller coaster ride. Music won't ever be the same at the Country Bear Jamboree, where country and western music come alove with Wendell, Big Al and Liver Lips and these life sized, banjo-pluckim bears give all they got. Put on those dancin' shoes for Goofy's Country Dancin' Jamboree where you can let loose with your favorite Disney characters. On Tom Swayer Island, you will sail on a raft of homespun fun by

Mark Twain

as you explore dirt trails, creaky bridges caves and more. When your adventures are done at Frontierland, head on over to the

Frontierland Depot

and board the train that will take you back to

Main Street U.S.A. or Mickey's Toontown Fair.

Attractions

Diamond Horseshoe Saloon Revue

-

This honest to goodness western saloon features dancing girls, comedians, and troubadour sing alongs.

Frontierland Shootin' Arcade -Use infrared rifles to hit targets and trigger silly sight and sound gags.

Country Bear Jamboree - Country and western music will never be the same after you see Wendell, Big Al, and Liver Lips perform. Twenty life–sized banjo–pluckin' bears give it their all in this classic Disney attraction.

Tom Sawyer Island- Walt Disney himself designed this out of the way retreat. You'll be transported by boat to Tom Sawyer's Island, and immersed into the homespun world of Mark Twain. There are dirt trails and creaky barrel bridges to explore, even fun spots like Harper's Mill and poke around Injun Joe's Caves

Splash Mountain - Hop a hollowed–out log and follow Brer Rabbit into HIS laughin' place. Inside you discover a world that has you singing Zip A Dee Doo Dah until you are sent screaming into the Briar Patch on a five story drop.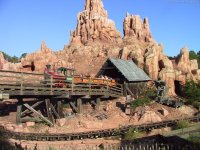 Big Thunder Mountain Railroad
- Zip in and out of a deserted gold mine on a runaway train. It's a swervy, curvy roller coaster ride through steep mountain passes, into caves, under falling boulders, and on to Tumbleweed, a flooded mining town. Ride it again and again to take in all the wacky Disney touches.
Pecos Bill Cafe- Serving lunch and dinner, the best food in the west includes your American favorites, cheeseburgers, hot dogs, sandwiches and fresh toppings.
Aunt Polly's Dockside Inn- Offers you a quaint picnic lunch with fresh apple pie and soft serve ice cream for desert.
Shopping
in Frontierland
will provide you with plenty of loot to trade or keep. For the turn of the century merchandise check out Prairie Outpost and Supply, Trail Creek Hat Shop, Frontier Mercantile and Splash Court
---
WDWVacationplanning.com ©2006-2008
Disney artwork, logos & properties: ©Disney | Disney Cruise Line
Ship Registry: The Bahamas