Magic Kingdom Theme Park Liberty Square
Where rich traditions of the past inspire a new nation. Step back into the past with the
U.S. Presidents
. Enter the 18th century through the Haunted Mansion, encounter grinning ghosts on a not-really-that-scary romp around their happy haunting ground. In The Hall of Presidents, you will see a tribute to the history of America as all 43 presidents gather to hear the words of
Abraham Lincoln
and
George W. Bush
. Tour the
Rivers of America
on the Liberty Square Riverboat, an authentic stern-wheel
steamboat.
Liberty square
is a re-creation of life in
colonial America
complete with
Liberty Bell
and a real 130+ year old tree (
The Liberty Tree
). If you are lucky, you will witness live events as cast members put on small "shows" such as the induction of patriots into the new colonial army!
Attractions
The Haunted Mansion- Enter an 18th century mansion and encounter grim grinning ghosts on a not-so-scary ride that includes a zillion classic details. The ceiling. Is it moving? Meet the eerie Madame Leota, phantoms of the ballroom and those hitch-hiking ghosts.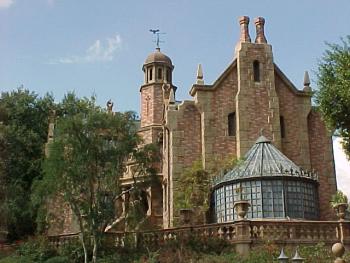 Liberty Square Riverboat - Tour the Rivers of America aboard this authentic three-tiered paddleboat.
Mike Fink Keelboats - Davy Crockett's buddy takes you on an up-close tour of the Rivers of America.
Goofy's Country Dancin' Jamboree- Goofy is your host and dance instructor for this foot-stompin', two-steppin', roof-raisin' good time of a barn-burning extravaganza. Come meet Woody, his gal pal Jessie and his trusty steed Bullseye from Disney/Pixar's "Toy Story 2" as they teach you "Boot Scoot Boogie", "Electric Slide", "Cotton Eye Joe" and "The Goofy Two-Step." Gawrsh, whoop it up, y'all!
The Hall of President- Don't miss this one-of-a-kind Disney classic. It's a sweeping tribute to the office of the Presidency and the history of America. You'll see all 42 Presidents gathered to hear the words of famous U.S. President, Abraham Lincoln.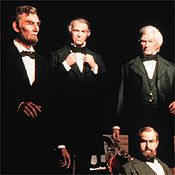 Liberty Tree Tavern- Authentic re-creation of a colonial inn with windows made by 18th century casting methods. Enjoy American favorites family style. You can "liberate your appetite" for dinner while enjoying the classic Disney characters, such as Goofy and friends. Priority seating recommended 90 days in advance.
Columbia Harbour House- Serving good ole' New England chowder, fried fish, sandwiches, salads and chicken.
Shopping
in Liberty Square
will let you bring home some cherished treasures from days gone by. The Yankee Trader is a quaint shop filled with kitchen wares, Ye Olde Christmas Shoppe lets you bring home the decorations year round. Heritage House has early American stock and collectibles.
FREE Disney Vacation Price Quote
---
WDWVacationplanning.com ©2006-2008

Disney artwork, logos & properties: ©Disney | Disney Cruise Line
Ship Registry: The Bahamas