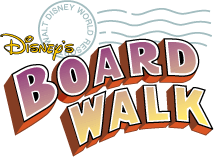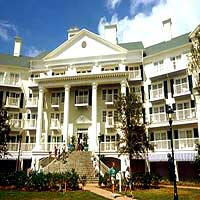 Get Vacation Package for Disneys Boardwalk Inn Resort now

You will step into an Atlantic waterfront resort when staying at the Boardwalk Inn located on the famous Disney Boardwalk. This grand Deluxe resort sits waterside on Disney's Crescent Lake. Just a short walking distance to Epcot, MGM and Disney's Beach and Yacht Club resorts, you will find an array of activities to do. The architecture of this resort resembles long ago seaside resorts. With an abundance of dining, dancing, shops and water activities, you will experience a vacation within a vacation when staying here.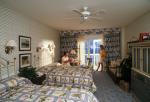 Each guest room (380 sq. ft) can accommodate a family of 5 with 2 Queen beds and a daybed. Your room comes fully furnished with an armoire, refrigerator, TV, safe, night stand, table with chairs, iron, ironing board, hair dryer, makeup mirror, and ceiling fan. The spacious bathrooms offer double sink vanities and separate shower/toilet area. Many of the guest rooms offer balaconies/patios. Each morning you will have the paper delivered to your door, turndown service is available to those who request.
If more than 2 adults share a room, there is an additional nightly charge of $25 per adult. The morning paper is delivered to your door daily. Nightly turndown service is available to all guests per request.
Concierge service level rooms are available and include the following amenities; robes, television speaker in bath area, hair dryer, make-up mirror, deluxe turndown service, continental breakfast buffet, English-style tea in the afternoon, and an evening presentation of wine, cheese and cordials.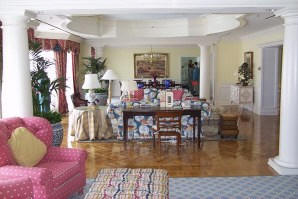 Boardwalk Inn resort offers a Honeymoon suites that have a private fenced in yard complete with a loft bedroom with king size bed, jacuzzi tub and a bread bar.

Dining & Entertainment: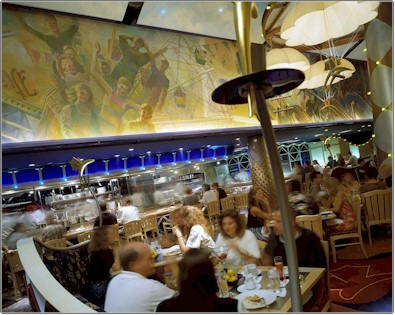 Flying Fish Café is a must for the seafood lover in you. Serving dinner (5:30-10) this waterside dining offers seafood, steaks and fresh seasonal items.
Spoodles is for those who savor Mediterranean cuisine. Serving Breakfast (7:30-11) and dinner(5-10) you will find your taste buds being tantalized.
Big River Grille and Brewing Works is open from 11:30-12 a.m. serving up fresh pub pie, baby back ribs, meatloaf, burgers and sandwiches.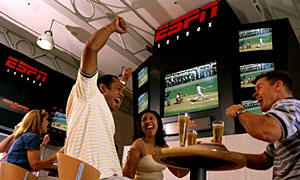 ESPN Club is your area sports club where you can unwind and catch up with the latest sporting events. Serving from 11 a.m.-1 a.m. this favorite club offers appetizers, wings, nachos, salads, burgers and sandwiches.
Boardwalk Bakery is a counter service location serving an assortment of baked goods, coffees and cappuccinos. Serving daily from 6:30 a.m- 11:00 p.m.
Seashore Sweets is just like the name sounds, offering old fashioned taffy, specialty coffees, ice cream and their famous fudge.
Belle Vue Room will make you feel as though you stepped back into the 1930's. This lounge (open 5-midnight) is made complete with a sitting room that offers guests the opporutnity to play board games as they relax and enjoy a bevarage of their choice.
Leaping Horse Libations will help you relax, unwind and enjoy your dining poolside. Open daily from 11-dusk, this pool side bar offers sandwiches, hot dogs and cocktails.
Atlantic Dance Hall is a dance club for those 21 and over. Latin rythym will keep those toes moving and those bodies shakin. Open from 9p.m.-2 a.m. you will find some of the areas best music.
Jellyrolls is a piano bar open from 7 p.m.- 2 a.m. servicing snacks and cocktails and a casual musical atmosphere. Separate admission is required and this club is for ages 21 and up.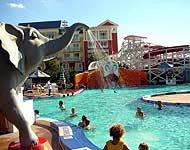 Disney Boardwalk Inn features the Luna pool with a 200 foot water slide that is designed to look just like a roller coaster. For those who prefer a more subdued pool experience, there are 2 quiet pools with hot tubs. A playground is located near the main pool for little ones and an arcade.
Muscles & Bustles Health Club features exercise, tanning equipment and aerobics, complete your health regime with a Sauna, a steam, or massage service. Paths for walking and jogging go around this resort with beautiful landscaping. You can enjoy specialty cruises on Crescent lake, go fishing or play tennis. There is also bike rentals available for you to enjoy the ride around Crescent lake.
Disney Character Carnival is open daily for your shopping pleasure.
Bus transportation is available from the Boardwalk Inn to the Magic Kingdom, Animal Kingdom, Water parks, and Downtown Disney.
You can also take a short walk to Epcot or MGM and the Boardwalk area. Ferry boats are available to Epcot and MGM.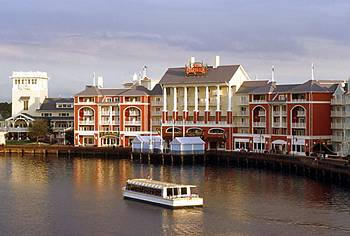 Disney BoardWalk Inn:
2101 EPCOT Resort Boulevard
P.O. Box 10000
Lake Buena Vista FL 32830-1000
Boardwalk Inn Vacation quote
---
WDWVacationplanning.com ©2006-2009

Disney artwork, logos & properties: ©Disney | Disney Cruise Line

Ship Registry: The Bahamas