Magic Kingdom Theme Park Fantasyland

Classic Disney Characters come to life in this enchanted land where once upon a time is now. Where rich traditions inspire a new nation. You can gallop around on one of the 90 handmade wooden steeds as you listen to your favorite Disney music on Cinderella's Golden Carousel. Whirl high above the area aboard you very own elephant on Dumbo the Flying Elephant ride. Mickey's PhilharMagic is a complete theater with 3D effects that makes you feel immersed in the animated world of your favorite Disney Characters. It's a Small World new and enhanced brings you around the world as you see the enchanting children sing. Spin your way around in a giant teacup at the Mad Tea Party. The Many Adventures of Winnie the Pooh will have you having a "honey of a time" as you ride in the huge honey pots. You can take flight above the streets of London, fueled by pixie dust as you enjoy Peter Pan's Flight. The enchanting tale of Snow White comes alive in Snow White's Scary Adventure. Try to pull out the magical sword, Excalibur of Arthurian legend, as you take part in The Sword and the Stone., daily you can catch Merlin the magician.

Where

dreams come to life, Fantasyland is Disney at it's simple best. Classic d ark rides of all your storybook favorites come to life. This is as close as Disney gets to an old fashioned Midway.
Cinderellabration - Delight in the majestic crowning of Cinderella. Your favorite Disney Princesses, including Aurora, Snow White, Jasmine and Belle gather to celebrate as Cinderella is crowned a princess. This show is inspired by the popular Tokyo Disneyland Resort stage show. You will enjoy this musical spectacular as it comes to life in a rich tapestry of elaborate costumes and classic Disney songs.
Cindrella's Castle- For all who have seen the castle elsewhere, now is your chance to see it in person. You will cherish your visit to this world-wide
symbol of magic, fantasy and imagination.
Cinderella's Golden Carousel- What's the oldest Walt Disney World® attraction? This magnificent carousel — built in 1917. You just can't resist the gentle charm of saddling up a horse and spinning to the jaunty rhythm of classic Disney music. Choose your steed carefully. No two of the horses are exactly alike.
The Legend of the Lion King - Simba's world comes to stunning life — live on stage — in this incredible retelling of the story of The Lion King. The theatrical show features all of your favorite Lion King characters and unforgettable music, plus the magic of puppetry, animation, and special effects.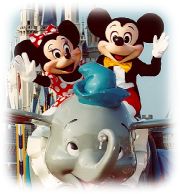 Dumbo The Flying Elephant- Soar high above Fantasyland atop the world's most popular pachyderm. The smiles are absolutely contagious.

Mad Tea Party- Board a

giant tea cup

and revolve your way through the wacky

Mad Hatter

Tea Party

. You control how fast you spin. How mad are you feeling?

The Many Adventures Of Winnie The Pooh!- Visit all your friends from the

Hundred Acre Wood.

It's the ride in which you get put in the middle of

Pooh's blustery day

. You'll bounce along with

Tigger

. Float through a floody place with

Piglet

. Even enter the mysterious world of

Heffalumps and Woozles

. It's a willy nilly silly good time.

Peter Pan's Flight-

You can fly! You can fly! You can fly! Douse yourself with pixie dust and take a fantasy voyage to Never Land. You'll ride in a flying version of Captain Hook's ship that sweeps you up above the streets of London and into the classic tale of Wendy, John, Michael, and the one and only Peter Pan.

Mickey's PhilharMagic- Be dazzled by this immersive attraction that bursts forth with amazement from one of the largest seamless screens in the world! It stars Mickey Mouse, Donald Duck and other beloved Disney favorites in a hilarious adventure through movies, music and mayhem. Experience Characters you love in a whole new dimension! This rollicking, frolicking 3-D "sym-funny" of surprises is guaranteed to delight the whole family.

Snow White's Adventures- High ho, High Ho! Hop a mine car through this enchanting retelling of the age–old fairy tale. You'll meet up with

Snow White

, the

Evil Queen

and all

Seven Dwarfs.

Just watch out and don't eat any apples.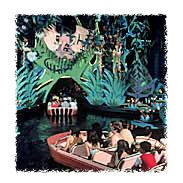 It's A Small World- Take that legendary boat ride around the globe on this musical tour of nations. Hundreds of international dolls sing and dance to the famous "it's a small world" medley. After it's over, just try to get that tune out of your head.
Dining in Fantasyland
Cinderella's Royal Table- A delectable buffet awaits you at this sit down dining location where you will dine with Cinderella and her storybook characters for breakfast and lunch. Dinner is also served but no characters appear. Priority seating recommended 90 days in advance.
Mrs. Pott's Cupboard- For the sweet tooth, serving soft serve ice cream, floats and sundaes.
Pinnochio Village Haus-Surround yourself with the story of Pinnochio as you enjoy cheesburgers, turkey hot dogs, salads and a view of 'It's a Small World".
Scuttles Landing-Serving flavorful snacks in a relaxing atmosphere.
Shopping
in Fantasyland
will provide you with fantasy boutiques and shoppes. For pixie dust keepsakes, you will find Tinker Bell's Treasures. Sir Mickey's will bring out the kid in you as you try on different adult character fashions. Become part of royalty at The King's Gallery located in Cinderella's castle. For the pooh lovers, Pooh's Totful Shop has all you can imagine.
WDWVacationplanning.com ©2006-2008

Disney artwork, logos & properties: ©Disney | Disney Cruise Line
Ship Registry: The Bahamas