Home
Disney World Orlando Planning & Pricing Disney World Vacation Price Quote
Disney World Resorts Disney Deluxe Resorts Disney Vacation Club Disney Moderate Resorts Disney Value Resorts
Disney Packages Magic Your Way Fairytale Honeymoon Magical Gatherings Groups/Conventions
Discount Disney Admission Tickets
Discount All Inclusive Packages
Theme Parks Magic Kingdom AnimalKingdom Hollywood MGM Studios Epcot
Disney World Water Parks Blizzard Beach Typhoon Lagoon
Downtown Disney Cirque Du Soliel Disney Marketplace Downtown Westside
Disney Character Dining Advanced Character Dining Reservations
Orlando Hotels Discount Airfare Orlando Attractions Car Rental Reserve Orlando Hotel
Adventures by Disney Vacation Destinations 2011 Vacation Packages
Disney Cruise Itinerary Bahama Cruise Caribbean Cruise Mediterranean Cruise Mexican Riviera Vacation
Disney Cruise Staterooms Inside Stateroom Oceanview Stateroom Balcony Stateroom Family Cruise Suite One and Two Bedroom Suites
Disney Cruise Activities Pirates in the Caribbean Deck Party Disney Cruise Dining Disney Cruise Pricing
Disneyland Resort California Resorts Grand Californian Disneyland Hotel Paradise Pier
Disneyland Discount Packages Resort Magic Magical Beginnings
California Hotels Discount Airfare California Attractions Rental Car Book California Hotel Now
Disneyland Good Neighbor Hotels Anaheim Hotels
Disneyland Theme Park Disney California Adventure Disneyland Dining Disneyland Pricing
Vacation Articles Win a FREE Disney Movie DVD Site Map About WDW Vacation Planning Client Comments
We really enjoyed the Bay Lake Tower at the Contemporary. We were able to walk to Magic Kingdom in just minutes.....Kathy
The contemporary was really excellent. I loved the room with the huge flat screen TV, the computer and internet service (fantastic), the balcony, etc. etc. My kids swam every evening and loved the pool....Zari.
We are so delighted that you had everything all set up for us! Thank you for working out the Contemporary rooms for us. We loved staying at this resort. I know that it is your job to help us plan, but not everyone does a job so well......Joanna
You will step into grandness at the Disneys Contemporary Resort. This resort, one of Disney World's original resorts is a modularly constructed A Frame building that towers above the Magic Kingdom. Don't let the "original resort" get you, this breathtaking resort has had a complete makeover. This resort is contemporary in it's design and shows off Walt Disney's inspiration for the future. This 15 story building is famously known for having the Walt Disney World Monorail running right through it's main tower.
With views of the Magic Kingdom right from your room, you will step into the future and surround yourself with the magic of Walt Disney himself.
This resort is made complete with it's signature dining experience at the California Grill high atop this magnificent resort and you won't want to miss the unique character dining experience with Mickey Mouse and friends at Chef Mickeys buffet.
Disneys Contemporary Resort room can accommodate 5 people with its spacious rooms filled with furnishings in dark, rich wood tones and detailed woodwork you will feel as though you stepped into contemporary excellence. Your guest room is fully furnished with 2 Queen sized beds ,daybed, marbled-topped nightstands, console tables, glass-top desk, fresh duvet covers and linens, beautifully woven bed throws atop divine bedding, 2 phones, ergonomic desk chair, a large compartment closet containing a safe for valuables, refrigerator, tv, iron, ironing board, a hair dryer, 4 mirrors, Separate locking room that holds the toilet, large basin style vanity, and a mirror. Nightly turndown service and morning newspaper delivery is available for free upon request.
If a Balcony is preferred, those can be found in the Tower rooms, as well as specially selected rooms that offer views of the Magic Kingdom. Standard rooms will be found in the Wings and offer views of landscaping/parking areas. Garden View rooms and Water view rooms are also available.
For families with more than 2 adults per room, there is an additional nightly charge per adult.
Dining at the Contemporary Resort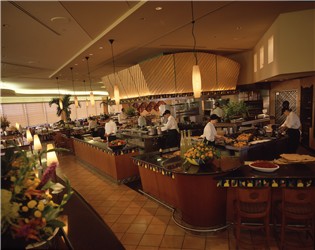 California Grill located on the 15th floor offers you uniquely California Cuisine. For those guests dining at this signature location you will have exclusive entry to the Observation deck that overlooks the resort, Magic Kingdom and the lake. Serving dinner from 5:30-10:30 you will dine on delectable fare such as salmon, tortellini, pork tenderloin, fresh fish, beef filet and sumptuous chicken dishes which are sure to please.
Chef Mickeys Restaurant serving up an all you care to eat breakfast (7-11:30 a.m.) and dinner (5-9:30 p.m.) buffet is a crowd pleaser. You will enjoy the antics of Chef Mickey and his friends as you dine in this fun filled restaurant.
Food and Fun Center is open 24 hours for your convenience and serves up a great variety of hot/cold sandwiches, salads, snacks and desserts.
Outer Rim (open from 4-11 p.m.) is where you can unwind from the day and enjoy your favorite cocktail, favorite drinks, and snacks.
Sand Bar and Grill is a full service bar open from noon-6 p.m. that offers tropical drinks, deli sandwiches, salads.
The Disney Contemporary Resort which is located lake side is a recreation lovers dream come true. Complete with 2 pools with a water slide, hot tubs, a white sand beach, a playground, and an arcade. Stay physically fit with the use of the fitness center, sauna, tanning beds and walk or jog along the lovely paths. If you prefer sportin' it while on vacation you can enjoy tennis, shuffle board, volleyball, boat rentals, parasailing, and other water sports. You may wonder if you will have time for the theme parks.
Prefer to shop, you can find those favorite items at BVGs, Fantasia, Concourse Spirits and Sundries and Pin Central which are open daily.
You can view the special Electric Water Parade that goes around Bay Lake and the Seven Seas Lagoon nightly at 10:00 p.m. from the beach at this deluxe resort.
Transportation:
Located on the Monorail, this convenient service is available between the , Magic Kingdom, and Epcot until 1½ hours after each park closes. Service to the resorts is available until 11PM or two hours after the Magic Kingdom closes, whichever is later. The monorail services the Contemporary Resort, the Polynesian Resort, and Disneys Grand Floridian Resort. Bus transportation is available to Hollywood Studios, Animal Kingdom, Water Parks, and Downtown Disney. You can walk to the Magic Kingdom along the special pathway if you prefer from this resort. Boat transportation is also available to Magic Kingdom, The Polynesian and Grand Floridian resorts.
Your Disney Vacation Specialists go to "infinity and beyond" to see to it that your Walt Disney World® Vacation is Affordable at the LOWEST possible price and that your vacation planning is as easy as 1,2,3.
So that your personal vacation expert can best assist you with your Disneys Contemporary Resort stay please fill out the following information below, for faster service Call Now 1-888-WDW-PACK (1-888-939-7225)
Thank you, your Disney World Specialist will contact you soon with pricing and details for your magical vacation.

Back to Top
---
WDWVacationplanning.com©2005--2012

All Rights Reserved

Disney artwork, logos properties:

©Disney | Disney Cruise Ship Registry: The Bahamas