Home
Disney World Orlando Year of Celebrations Planning & Pricing Disney World Vacation Price Quote
Disney World Resorts Disney Deluxe Resorts Disney Vacation Club Disney Moderate Resorts Disney Value Resorts
Disney Packages Magic Your Way Fairytale Honeymoon Magical Gatherings Groups/Conventions
Discount Disney Admission Tickets
Discount All Inclusive Packages
Theme Parks Magic Kingdom AnimalKingdom Hollywood MGM Studios Epcot
Disney World Water Parks Blizzard Beach Typhoon Lagoon
Downtown Disney Cirque Du Soliel Disney Marketplace Downtown Westside
Disney Character Dining Advanced Character Dining Reservations
Orlando Hotels Discount Airfare Orlando Attractions Car Rental Reserve Orlando Hotel
Adventures by Disney Vacation Destinations 2011 Vacation Packages
Disney Cruise Itinerary Bahama Cruise Caribbean Cruise Mediterranean Cruise Mexican Riviera Vacation
Disney Cruise Staterooms Inside Stateroom Oceanview Stateroom Balcony Stateroom Family Cruise Suite One and Two Bedroom Suites
Disney Cruise Activities Pirates in the Caribbean Deck Party Disney Cruise Dining Disney Cruise Pricing
Disneyland Resort California Resorts Grand Californian Disneyland Hotel Paradise Pier
Disneyland Discount Packages Resort Magic Magical Beginnings
California Hotels Discount Airfare California Attractions Rental Car Book California Hotel Now
Disneyland Good Neighbor Hotels Anaheim Hotels
Disneyland Theme Park Disney California Adventure Disneyland Dining Disneyland Pricing
Vacation Articles Win a FREE Disney Movie DVD Site Map About WDW Vacation Planning Client Comments
Get Your Vacation Package for Disneys Wilderness Lodge Resort now.
When you step into the Wilderness Lodge, you will feel as though you have just stepped into the pacific northwest wilderness. You will even feel as though Old Faithful is right there among you. With its own geyser, this cozy resort which makes you feel as though you are not at Walt Disney World, but instead part of the wilderness. You will enjoy the amazing grounds of this Disney Hotel and fine restaurants that provide some of the most interesting fare in Disney World Orlando.


Disney Wilderness Lodge
Accommodations:
Get Your Disney World Vacation Package Pricing Now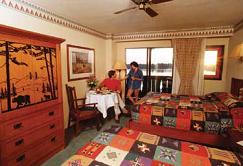 When you step into your spacious room that is 340 square feet, you will find cozy northwestern inspired bedding, 2 queen beds, or a king bed with bunk beds. With gorgeous hardwood furniture you will be at home with a table with two chairs, refrigerator, spacious closet, safe to store valuables, TV, sink area with double vanity, and shower and toilet in a closed area. Enjoy the complimentary newspaper that is delivered right to your door.
Disneys Wilderness Lodge standard room is for 4 guests. However, there is a Deluxe room category available for families of 5.

When more than two adults will be sharing the same room, extra adult charges will apply.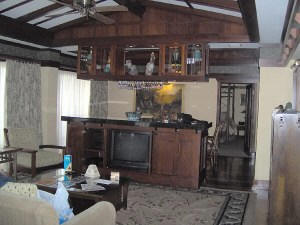 If more room is what you had in mind, there are junior suites available at the Wilderness Lodge that feature two queen beds or one king bed in the bedroom and a queen sleeper sofa in the living area.

For those who prefer to include extra services and the convenience of breakfast, snack and evening reception, Concierge service is available at Disneys Wilderness Lodge. Concierge rooms are located on the 7th floor, are non smoking, have robes, irons, ironing boards and safes. The concierge lounge is open from 7 a.m.-10 p.m. and servies Continental Breakast, Snacks from 11:30-3, afternoon tea from 3-4, wine and cheese from 5-7 and desserts and cordials from 8-10 p.m.

Dining at the Wilderness Lodge: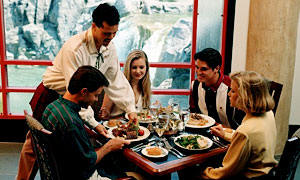 Artist Point is open from 5:30-10 nightly serving dinner.
Menu Includes: Lamb, Beef, Seafood, Chicken, & Pasta

Roaring Forks Snacks is open all day long until midnight serving up burgers, sandwiches, salads, snacks and beverages.

Territory Lounge is a full service bar open from 4-midnight serving your favorite beverage and tantalizing appetizers.

Whispering Canyon Café serves up a delectable feast for breakfast, lunch and dinner.
Breakfast Menu includes: Eggs, breads, meats, fresh fruit & pancake
Lunch Menu includes :Family Style all you can eat- BBQ Roasted Chicken, Smoked Pork Ribs, Smoked Beef Brisket, Baked Beans, Coleslaw & Garlic Bread
Dinner Menu includes: Down Home American Regional BBQ.

Disneys Wilderness Lodge Recreation: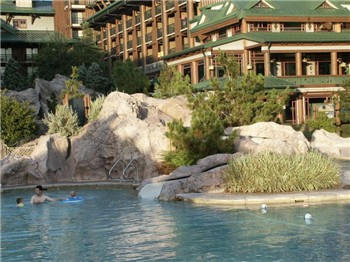 '

The main pool at the Wilderness Lodge will

have you feeling like you are soaking in a spring. This pool has a great water slide that your kids will love. There is also a kiddie pool, 2 jacuzzis and a white sandy beach. Towels are available at the main pool for your convenience.

Your little ones will have fun at the playground located right near the beach or enjoy the arcade.

Want to keep up with your daily routine, you will be in fine shape when attending Sturdy Branches Health Club. Featuring a full range of Cardio & Strength Equipment, Free Weights, Massage Treatments, Sauna Room and Personal Training. you won't be leaving the same way you came in. For nature lovers, there are paths for walking and jogging, boat, bike rentals and even horseback riding and Fishing excursions.

Shopping: Wilderness Lodge Mercantile is open all day until 11 p.m.

Transportation: is available via bus to MGM Studios, Epcot, Animal Kingdom, Water parks, and Downtown Disney. You can take an enjoyable boat ride to Fort Wilderness Resort , to the Magic Kingdom Contemporary Resort and back to the Wilderness Lodge.
Address:
Disneys Wilderness Lodge
901 Timberline Drive
Lake Buena Vista, FL 32830-1000
Your Disney Vacation Specialists go to "infinity and beyond" to see to it that your Walt Disney World® Vacation is Affordable at the LOWEST possible price and that your vacation planning is as easy as 1,2,3.
So that your personal vacation expert can best assist you with your Disney Wilderness Lodge stay please fill out the following information below, for faster service Call Now 1-888-WDW-PACK (1-888-939-7225)
Reserve your Room Only Now Check Rates and Availability
---
WDWVacationplanning.com ©2005-2011

Disney artwork, logos & properties: ©Disney | Disney Cruise Line
Ship Registry: The Bahamas